Jordan from the Customer Operations team talks to Andre Gonsalves, a Capital on Tap customer and the founder of Brighton Local SEO, about the hacks that small businesses can use to get top billing on the web without spending a fortune on paid ads.
If you were trying to get the word out about your business 20 years ago, you might have put a notice in the local shops, passed out flyers, or paid for a fancy border for your ad in the yellow pages. These days when consumers want something they head straight for Google. That's a blessing and a curse because while it's easier to get on there, many business owners tell me they find it harder to get seen.
Enter Search Engine Optimisation, or "SEO". As Andre explains, "Google wants the best experience for their users, that means the most relevant and useful content in their search results. SEO is the process of optimising your website's content so that Google, or any other search engine, recognise your site as a "quality" page and website that it wants to rank highly, thereby providing the best and most relevant answer to that user's request." And it's not just Google – SEO can also be used for Youtube, Amazon, or wherever customers might be searching.
A well optimised website is absolutely critical to ensure your business is found by your potential customers ahead of your competitors.
That can turn Google into a powerful new channel to reach potential customers. In fact, as Andre tells me "when used correctly small business owners will benefit from the most cost-effective form of advertising for their business, saving money and increasing their potential for profits. Small business owners should consider their website and social media presence as a 24/7 salesperson for their business."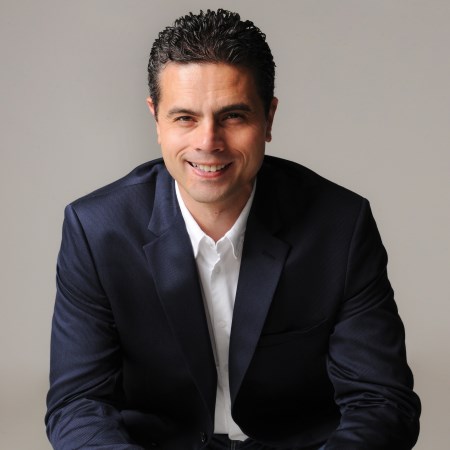 Andre Gonsalves, a Capital on Tap customer and the founder of Brighton Local SEO
One misconception that Andre hears from the small businesses he works with is that it's only for big businesses with millions to spend on advertising. "SEO is arguably more relevant for local businesses than the likes of MacDonald's or Homebase. Ask yourself, if you were a hungry tourist looking for food, and you quickly checked Google for nearby places to eat, would you go to Nando's or Joe's Cafe? More than likely it would be the familiar brand name (if you like Nando's!). As a small business owner, you need to be that familiar brand name, at least in your area."
A unique website with a dedicated URL should always be a founder's first choice for their online presence.
Another misconception, and one that I'm probably guilty of myself, is focussing too much on Social Media and too little on search ranking. "Business owners are often told they should be 'tweeting' on Twitter or posting to Facebook. Whilst social media can and will provide marketing opportunities, social media pages are ranked lower on Google when a user enters a search term looking for the services you can provide. A unique website with a dedicated URL to your business holds much higher 'authority' and should always be a founder's first choice for their online presence".
Okay – I'm convinced. I'll get off twitter and focus on Google. But where to start if I don't have the budget just yet to get professional support with it? Andre's advice is to start with a NAP. Sadly he doesn't mean I can dream my way to the top. "Name, Address, Phone – Conflicting contact details about your business, or even worse no contact details at all, will mean that your business is not consistently found on search engines" he explains. There are a few simple steps to making sure your company's NAP game is on-point:
Search for your business name in Google. You may be surprised to already find mentions of your business on Yelp or other review sites.

List in a spreadsheet all the websites that mention your business. Doing this helps to keep track and see where your customers are congregating online.

Claim and verify those sources as your own, which legitimises the listing and lets you update them and respond to customers who post reviews etc.

Clean-up the listings. Often the address or phone number may be wrong or missing.

Add extra information about your business which is particularly important for a great Google My Business listing.
But let's say I want to go the whole hog and bring on a professional. My team help business owners several times a week who have had very bad experiences working with disreputable consultants who promise them the world and then end up as an expensive mistake. I ask Andre what a founder should look for to make sure they're working with someone they can trust and who'll deliver value for money?
Having an SEO expert you can easily contact and meet with regularly to discuss changes is essential to getting the best service.
"Digital Marketing is still a very new industry" he replies. "That means you can collaborate with a consultant anywhere in the world. But optimising your business's online presence is a fluid process with results achieved over time. There's a strong benefit to working with SEO professionals that are located in your area. Having local knowledge means that the work an SEO expert provides for your business, located in your city, will be more focused and relevant to your customers. There's also the aspect of communication and accountability. Having an SEO expert you can easily contact and meet with regularly to discuss changes is essential to getting the best service. This ensures your website can adapt with your business so it's highly optimised for local marketing that drives more sales for your business." So digital marketing is just like milk – it helps to buy local!
The best thing about working for the customers of Capital on Tap is that I get to talk to a lot of business owners all across the UK, and Andre is no exception, so before we wrap up I'm keen to hear what he's learned in his journey as a founder so far. "Never give up!" comes the emphatic reply. "When building your own business and brand you will face many roadblocks. You've got to just get out there and find your customers. Waiting to perfect your brand identity, product or service is often counter productive because you risk completely missing the opportunity. Understanding how your business functions in real-world situations will advance your business growth much quicker than trying to get all bases covered before launching. Learn whilst you grow, work agile and adapt your business strategy to overcome problems. Above all have fun and enjoy your work."
---
Andre is the founder of Brighton Local SEO, a provider of web design, hosting and SEO services to small businesses in the UK. If you're interested in finding out more you can find them here, and if you're interested in partnering with Andre, you can reach him at visibility@brightonlocalseo.co.uk, or call him on 01273 80 33 33.
Finally, we're always keen to chat to people who could help our 65,000 small business customers achieve great things, so if you have expertise to offer and would consider being featured, get in touch at social@capitalontap.com.