Published: May 04 2023
Last updated: May 02 2023
Read time: minutes
To keep up with the times and stay competitive, you have to use LinkedIn as a promotional tool for your business. This guide offers you our top LinkedIn tips for businesses, and gives examples of some companies that (Capital on Tap thinks) are nailing their LinkedIn strategy. .


Why is LinkedIn important for business?
With its impressive user base of 900 million, LinkedIn offers unrivaled opportunities to promote your business, hire the best talent, and form lasting connections. But what makes it different from other platforms like Facebook, Twitter, and Instagram?
Unlike other social networks, LinkedIn's user base is composed of professionals who are actively looking to build meaningful connections. This makes it the perfect environment for marketing and brand building.
How to create a business page in LinkedIn 
To use LinkedIn to promote your business, you need to have a company page. It's a straightforward process - just follow these steps:
Log in to your personal LinkedIn account
In the top navigation bar, click on the 'Work' icon, and select 'Create a Company Page' from the dropdown menu
Choose the type of page you want to create from the options available: Company (small, medium, and large businesses), Showcase Page (a sub-page for a pre-existing page), or Educational institution (schools, colleges, and universities)
Enter your company details, including your company name, website URL, industry, and company size
Upload your company logo. We recommend this is at least 300 x 300 pixels
Write a compelling company description that accurately represents your business and highlights your products or services
LinkedIn will give you a helpful preview of your page. Once you're happy, publish your company page, and start sharing content to engage with your followers


LinkedIn strategies for business 
Whether you've just set up your profile or you're a seasoned pro, there are plenty of ways to leverage LinkedIn to grow your business. Let's explore some of its features and the LinkedIn best practices for businesses like yours.


Update your profile
If you haven't already, you need to complete your profile and business page. Personal and business pages with complete profiles receive 30% more views.
On your personal profile, fill out your work experience and education. Describe your role and business' purpose using relevant terms and phrases to make sure you rank highly in the search results.
Use the 'About Us' section on your business page to do the same. You need to be telling people who you are, what you do, where you do it, and how they can contact you.
Make sure to add a cover and profile photo. We'd recommend a solo photo such as a headshot for your personal page, and your organization's logo as the profile photo on your business page. For your cover photo, you could have a landscape shot of the city your business is located in or a company-branded banner like coffee roasters, Perky Blenders has:

Claim a custom URL 
Customizing your public profile URL can help recruiters and other members find and connect with your LinkedIn profile more easily. Don't miss out on valuable opportunities by making it difficult for people to find you. 

To create a custom URL: 
Click your profile icon at the top right of your homepage, and then 'view profile'
Again in the top right corner click 'Edit profile & URL' 
In the new window, click the pen icon next to your URL to update it. For your personal profile, use your full name if it's available. Use your business name for your business page


Optimize your page for search 
This will help you gain followers and increase engagement on your posts.

Just as online retailer, Thrifted, has: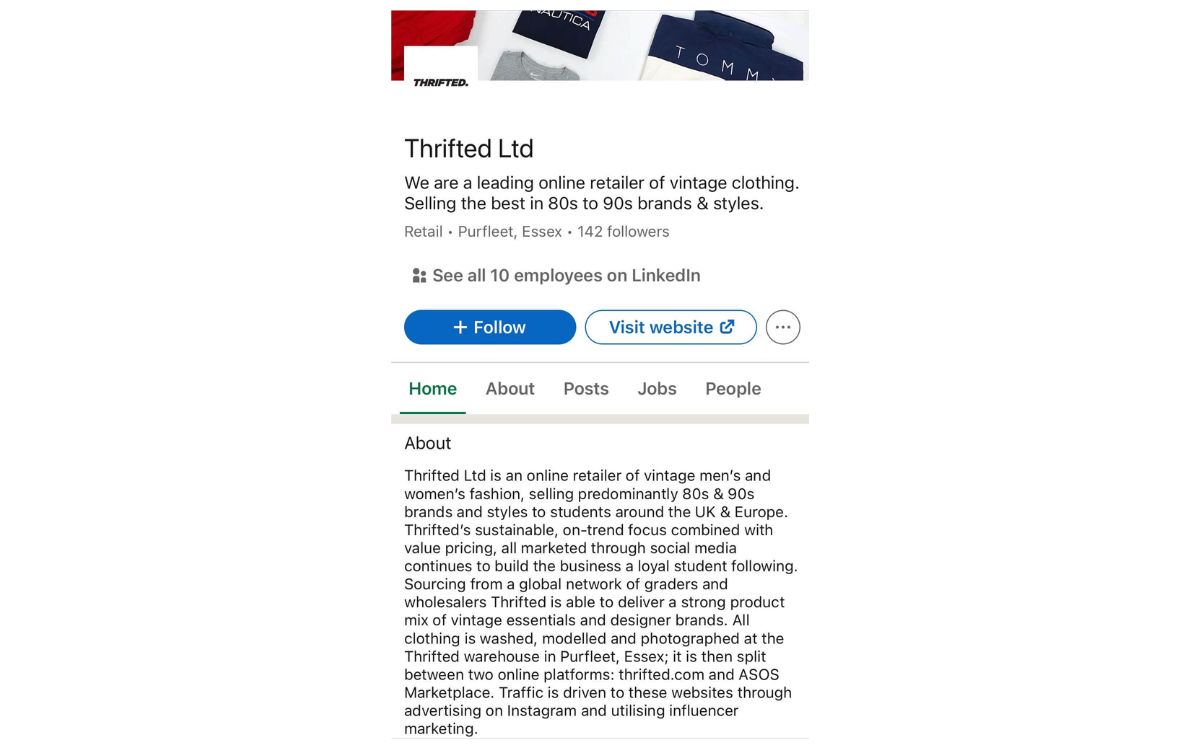 Thrifted's banner, headline, and profile summary clearly communicates who they are and what they do.
Use your LinkedIn profile to position yourself just as clearly by sharing who you are and what you do. Make sure to include keywords in your description. For example, if you're an accounting practice, look to include words such as "accountancy" or "finance". This improves your chances of appearing higher in the search results, making it more likely that people will click on your profile and engage with your business.


Connect with your employees 
Your employees are the easiest connections you can make in an effort to promote your business on LinkedIn. Encourage employees to engage with and share your content with their own followers to enlarge your audience and effectively use LinkedIn to market your business.


Find your target and build relationships 
There are a few ways to find people you'd like to connect with on Linkedin; use the search bar to find people who are going to be interested in your content by searching for relevant keywords. The "People You May Know" section is also a helpful resource. Once you've found someone to connect with, it can be tempting to just hit the "Connect" button without adding a personalized note, but taking the time to personalize the connection request with an invitation can make a huge difference in getting your request accepted.
But, connecting with your target audience is just the beginning - it's what you do with these connections that counts.


Create unique and engaging content 
Easier said than done. To get you started, here are some of our top tips for what to post on your LinkedIn business page:
Ask thought-provoking questions to start meaningful conversations with your audience
Create polls to gather feedback on current industry trends or global issues. You could then make a follow-up post that discusses the results of your post.
Use relevant hashtags in every post to expand your reach. We recommend using 3 per post that are naturally embedded into the text of your post
Use eye-catching visuals such as photos, infographics, or videos to boost interaction and promote your business; visual posts get 98% more comments than text-only posts.


Post job opportunities and company updates 
Millions of professionals use LinkedIn to search for a new job.Posting available job opportunities within your business helps you reach this vast audience of professionals actively seeking employment, and creates a direct channel for you to connect with them. Additionally, showcasing job openings can boost your brand image and increase your company's visibility on the platform, attracting top talent and potential customers alike.
Posting regular company updates is another key aspect of promoting your business on LinkedIn. Sharing information about your industry awards, company growth, employee work-anniversaries, or personal milestones on LinkedIn can provide valuable insight into your company's achievements and values.
Vic Wood, founder of vegan beauty brand, Greener Beauty, regularly shares on LinkedIn when her business is shortlisted for an award: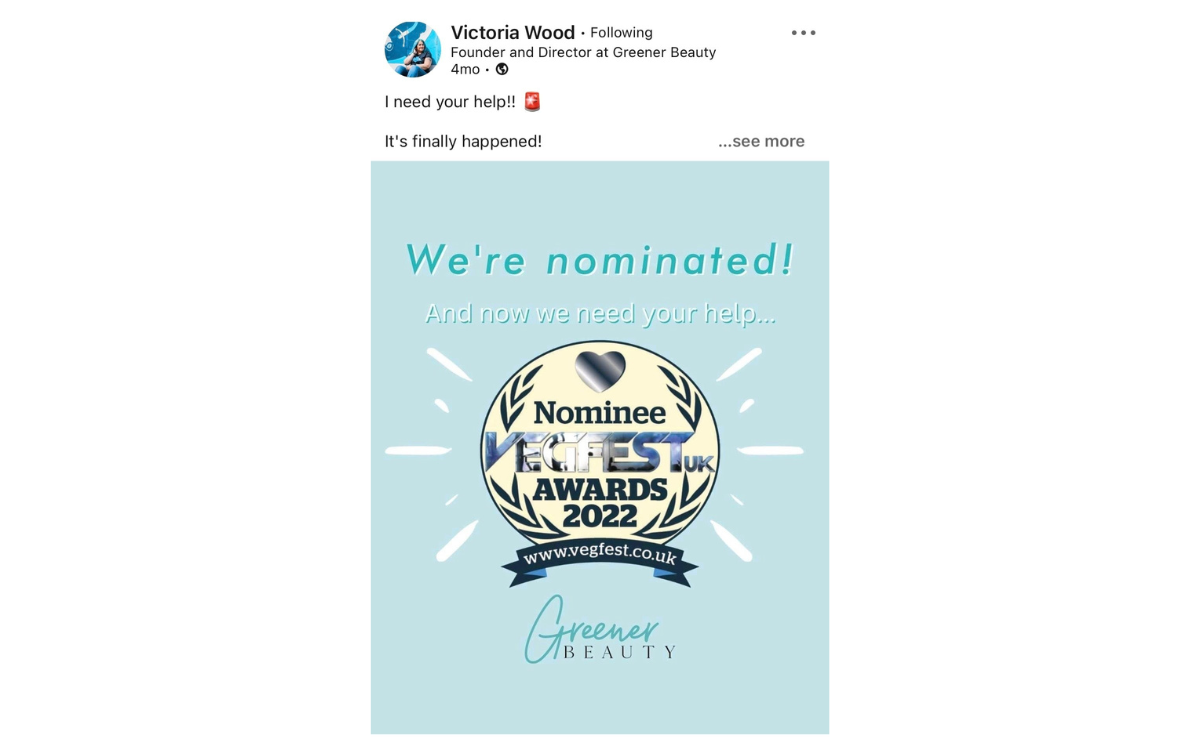 By showcasing these accomplishments, you demonstrate your company's authenticity and build trust with your ever-growing audience.


Be consistent 
Consistency is key, and it's not just about how often you post - it's also about the timing, tone, and messaging of your posts. By carefully crafting your content, you create a cohesive brand voice and build a stronger connection with your followers. Don't underestimate the power of consistency; the hard work that went into creating unique and engaging content will be wasted if your posts aren't consistent.


Take advantage of sponsored posts 
Sponsored content on LinkedIn is content that is created and promoted by a business to reach a larger audience than they might otherwise be able to reach organically. By leveraging the targeting and advertising tools available on LinkedIn, your business can reach specific audiences with content that is tailored to their interests and needs.


Get active and create your own LinkedIn groups 
To foster meaningful discussions about your industry and build a sense of community among your customers or employees, consider creating a company-branded group on LinkedIn. By facilitating collaboration and actively managing the group, you can establish your business as a thought leader in your industry. This is a great opportunity to promote your business, engage with your audience, and create a space where they can connect and share insights with one another.


Don't forget the numbers
When it comes to your content on LinkedIn, it's important to keep an eye on how far it's reaching and how much engagement it's getting. LinkedIn offers detailed page analytics and reporting tools for you to keep track of your overall performance. If you're not hitting the right audience or receiving the engagement you're after, it's time to make some changes. Are there certain types of posts that are getting more likes, comments, and shares? What makes those posts different from the others? By using LinkedIn's analytics tools, you can get a better understanding of your audience and what kind of content they're most interested in. That way, you can adjust your strategy and start creating content that really resonates with your followers.