Published: Oct 07 2022
Last updated: Oct 07 2022
Read time: minutes
Think TikTok is just for the latest Gen Z dance trends and pets doing silly things?
Think again.
When used strategically, TikTok can be a powerful marketing tool to drive customers to your small business. In this article, we explore how to use TikTok to promote your business and help you gain exposure on one of the most fun and creative platforms that exist today.


Is TikTok good for small business?
Many businesses have been hesitant to jump on the TikTok bandwagon, but there are actually a lot of benefits that small businesses can gain from using the platform. For one, TikTok provides a great way to reach a young audience. With over one billion active users worldwide, TikTok offers businesses a huge potential customer base.
In addition, TikTok videos are highly shareable, which means that businesses can get their products and services in front of even more people with each video that is shared. Finally, TikTok videos are relatively inexpensive to produce, making it a cost-effective marketing tool for small businesses. When used correctly, TikTok can be a powerful tool for helping small businesses to reach new customers and grow their brand.


How can I boost my business on TikTok?

Engage with your audience
Make sure you're liking and replying to any comments on your content. But also go further, and interact with other users. Comment on their videos, share them with your followers, and start building relationships with other members of the TikTok community. 


Tell your story
People love stories, and TikTok is the perfect platform for sharing them. Whether it's a behind-the-scenes look at your business, or a case study of how your product or service has helped someone, stories are a great way to connect with potential customers on TikTok.


Create unique and original content
With its short format and creative tools, TikTok is the perfect platform for experimenting with new ideas. So don't be afraid to try something different and see what works for your business.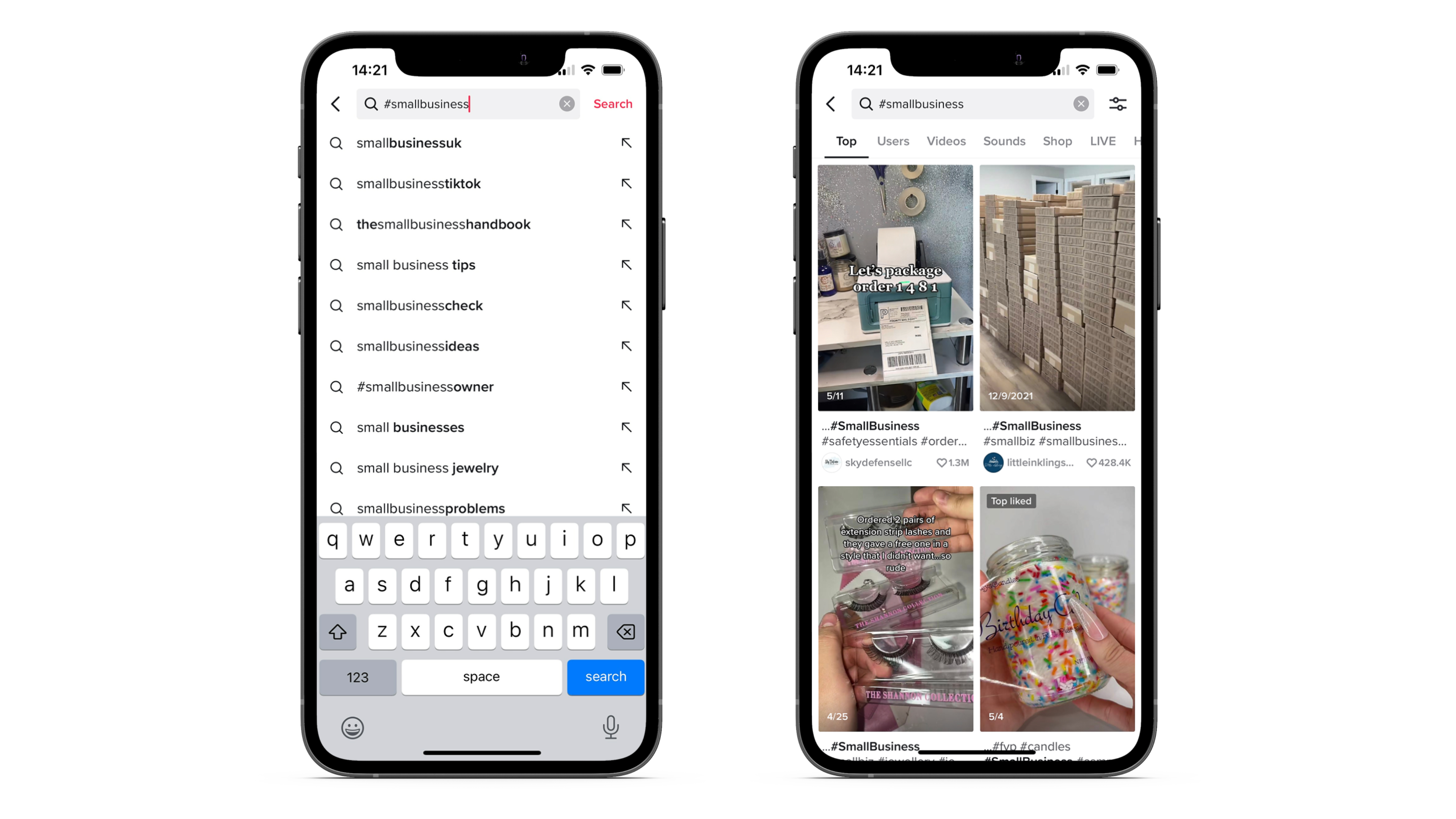 Use the right hashtags
Hashtags are a great way to get your content seen by more people on TikTok. When choosing hashtags, make sure they're relevant to your business and use popular ones that are being used by other businesses in your industry. Here are a few ideas for small businesses and how many views they're currently getting!
#smallbusiness – 33.8 billion views
#supportsmallbusiness – 3.1 billion views
#sidehustle– 6.8 billion views
#entrepreneur– 12.8 billion views
#smallbiz– 2.5 billion views
#smallbusinesscheck – 10.2 billion views


Collaborate with other businesses
Collaborating with other businesses on TikTok can help you reach a wider audience and build relationships with other brands in your industry. Find businesses with a similar target audience to yours and see if there's an opportunity to collaborate on a video or campaign.


Work with TikTok influencers
Influencer marketing can be extremely effective on TikTok, as influencers have already built up a large following of engaged fans who are interested in what they have to say. If you partner with an influencer who is relevant to your business, you'll be able to tap into their fan base and get your brand seen by more people.


Play with music and effects
When it comes to actually creating your videos, music is a key element that can help make your content more engaging. TikTok offers a wide range of songs to choose from, so take some time to explore and find the perfect track for your video. You can also add sound effects to add another layer of interest. Just be sure not to go overboard – too many effects can be overwhelming and take away from the overall message of your video.


Post frequently 
Start creating content regularly - it helps you stay top of mind. In today's attention economy, this is more important than ever. Posting frequently on TikTok will help ensure that your audience remembers you when they're ready to make a purchase.
It also allows you to take advantage of trends. Social media is about staying ahead of the curve and taking advantage of trends as they emerge. By uploading regularly on TikTok, you'll be able to quickly jump on trends and capitalize on them before they fizzle out.


Share user-generated content
Sharing user-generated content on TikTok is a great way to connect with your audience and build trust. When you share content that was created by someone else, it shows that you are interested in what your users have to say and that you value their opinion. This can help to create a stronger bond between you and your users, which can lead to more engagement and loyalty. 
In addition, it can also help to improve your TikTok algorithm ranking. When TikTok users see that you are sharing content that they have created, it signals to the algorithm that your account is active and engaging. As a result, your account is more likely to be featured on the For You page, exposing your content to a wider audience. So if you're looking for ways to connect with your audience and improve your TikTok algorithm ranking, it's a great option.


Make use of in-feed ads, brand takeovers, and TopView Ads
One way to do this is through in-feed ads, which appear in users' feeds alongside other content. Brand takeovers are another option, and they offer a chance to take over the entire screen when the user first opens TikTok. This appears as either a three-second image or a three to five-second GIF. Finally, TopView Ads are also an option, and they appear at the top of users' feeds when they first open the app. All of these options offer a great way to reach potential customers on TikTok.
Remember you can use your Capital on Tap Business Credit Card, issued by WebBank for your advertising costs, so you can earn 1.5% cashback while promoting your brand.


Keep an eye on trends
Take advantage of TikTok's search function and explore trending topics and hashtags. This is a great way to discover new trends that you might not have otherwise come across. Finally, don't be afraid to experiment and try out new things. After all, that's what TikTok is all about!


How to use TikTok for business
Remember, your success on TikTok is taking each of the steps we have discussed so far and putting them into place. Your preparation is key to the longevity of your brand.


How to get a TikTok business account
First, download the TikTok app and create a personal account. Once you have an account, you can access the settings menu by tapping the three lines in the upper right-hand corner. From there, select 'Settings & Privacy', then 'Manage account'. Here you should see the option to 'switch to Business Account.'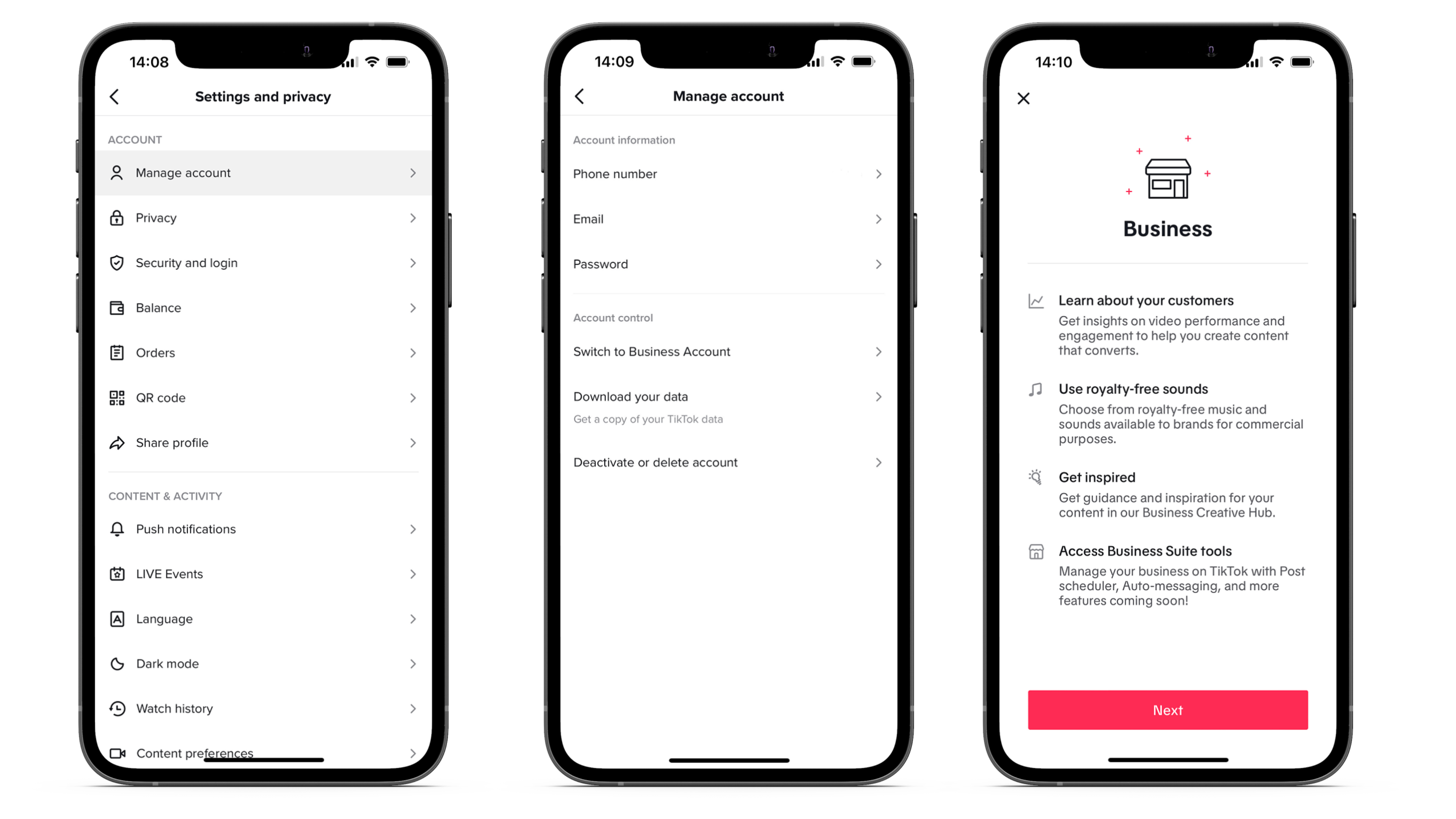 TikTok creator vs marketer account
Next, you'll need to choose which type of business account you want to create. There are two options: Creator and Marketer. Creator accounts are meant for individual content creators who want to use TikTok to promote their brand or business. Marketer accounts are best for businesses that want to run ad campaigns on TikTok.
Once you've selected the type of account you want, you'll be asked to provide some information about your business, such as your business name, website, and contact information. You'll also need to upload a profile photo and cover image for your account. After inputting all the necessary information, you can start creating content! Remember to stay creative and have fun with it.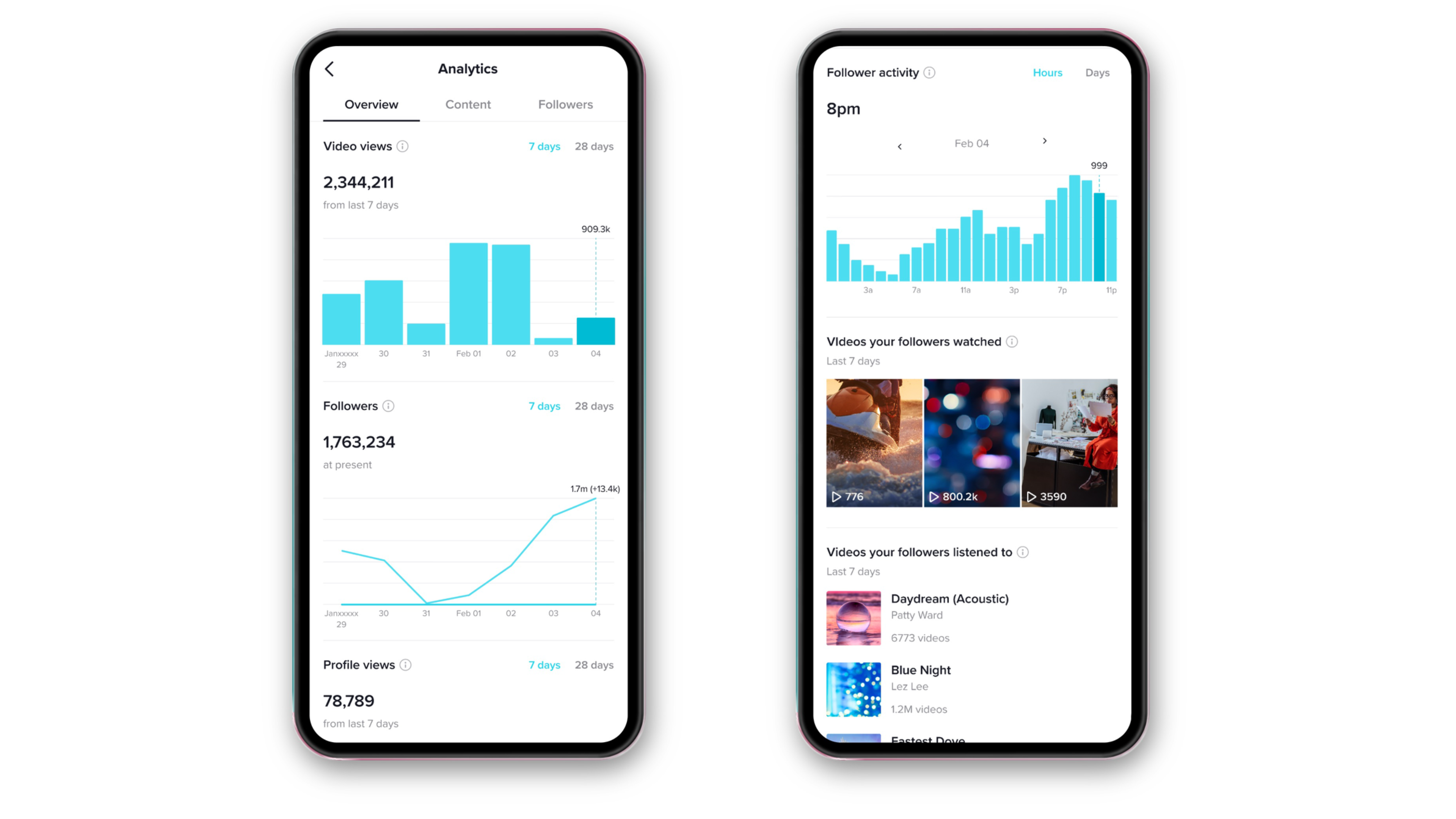 Image credit:TikTok
Dig into TikTok analytics
By taking a close look at TikTok stats and data, you can start to understand what kind of content performs well on the platform, who your target audience is, and how you can reach them. With these valuable insights in hand, you can start devising a TikTok marketing strategy that could help you reach new heights.
Image credit: Shopify
TikTok Shopify app
You can use TikTok to drive traffic to your Shopify store if you're selling products online. The first step is to create engaging videos that showcase your products in action. Whether you're demonstrating how to use them or simply showing off their features, you'll want to pique viewers' interest so that they're curious about what you have to offer.
If you don't already have a Shopify account, you can set one up in just a few minutes. Once you're signed up and logged in, click on the "Add Product" button in the left-hand sidebar. From here, you'll be able to add all of your products, complete with photos and descriptions. Be sure to include any relevant hashtags in your product descriptions, as this will help people find your products when they're searching on TikTok.
Once you've got all of your products added, head over to the "Checkout" page in Shopify and select the "TikTok" payment option. This will allow people to purchase your products directly from your TikTok shop. You can also choose to add a link to your TikTok shop in your profile bio, which will make it even easier for people to find and purchase your products.
So, you're now armed with all the information you need to become a TikTok star! Keep in mind that TikTok is all about having fun. Don't be afraid to experiment and be creative - that's what the platform is all about! By following these tips, you'll be on your way to promoting your business on TikTok in no time.
While you're growing on TikTok, The Capital on Tap Business Credit Card, issued by WebBank, is there to support you and your small business. With credit limits up to $50,000, unlimited free 1.5% cashback on all purchases, and immediate access to funds for most approved applicants, Capital on Tap streamlines access to funds while providing great rewards for small business owners.
If you haven't already, apply now so you can turn your focus to becoming the next TikTok sensation.
© Copyright 2022. Capital on Tap Business Credit Cards are issued by WebBank. © 2022 New Wave Card Inc dba Capital on Tap.