We're excited to announce that we've partnered with Apple to enable Apple Pay for all Capital on Tap customers!
Apple Pay is a fast and secure alternative to spending on your Capital on Tap card and allows you to pay within any apps which accept digital payments through Apple, as well as contactless by tapping your phone or wearable device at terminals all over the world.


How do I set it up?
Just head to your Capital on Tap customer portal on your Apple device or Capital on Tap mobile app, and enable Apple Pay by heading to 'Cards' tab and pressing 'Add to Apple Wallet'.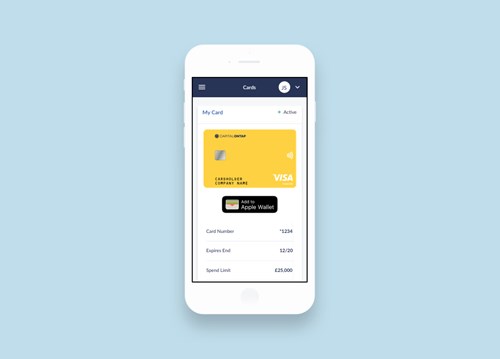 Don't have Capital on Tap app for iOS? You can easily download the app here or just head over to the Apple Pay app and enter your details, and you'll be good to go.


Is Apple Pay safe?
Apple Pay is safer than using a physical credit, debit and prepaid card. While normal cards rely on you keeping your PIN code safe, Apple Pay uses security features built-in to the hardware and software of your device. To use Apply pay, you must have a passcode set on your device or use facial or fingerprint recognition. 
Apple Pay also keeps your purchases private. When you pay with your Capital on Tap card via Apple Pay, Apple doesn't retain any transaction information that can link the purchase back to you. You can see transaction information on your Apple device and in your Capital on Tap app, but Apple doesn't store this data on their servers. Also, your card number is never stored on your device or Apple's servers and never shared with the merchant.
Of course, you need to make sure you keep your Apple device safe, just as you would with your physical Capital on Tap card.


How do I make my CoT card the default card?
Open your Apple Pay app and drag your Capital on Tap card to the front of your wallet.


How much can I spend using Apple Pay?
It's exactly the same as with your physical card! There's no limit as long as you can authenticate the payment, but some merchants may still apply the same limit as contactless, which is £45. There are no limits on Apple pay transactions made in apps or in Safari.


What happens if I lose my Capital on Tap card?
If you lose your card, please suspend it at once either on your Online Portal or within our app. If you think your card has been stolen or is lost for good, you can also request a replacement at the same time! 
If you don't have access to either, please give us a call on 0208 962 7401, at any time of the day or night. 
If you've frozen your physical card, your Apple Pay remains active.
If you find your card and unfreeze it, you'll be able to use Apple Pay again. If you replace it, your new Capital on Tap card will automatically be added to your Apple Pay wallet, so there's nothing you need to do there!
Just remember, freezing or replacing the card will usually remove it as the default card in your Apple Pay wallet, so you'll have to drag it to the front again.


Can I use Apple Pay to pay in an app?
Yes! A lot of apps accept digital wallet payments, so just select Apple Pay at checkout, and make sure your Capital on Tap card is set as the default.


Can I collect Reward Points on Apple Pay?
Absolutely! If you're already a member of our fantastic Business Rewards program, you will collect rewards points on all Apple Pay spend just like you would on your business credit card. If you're not a member yet but plan on using your card in Apple Pay, check out the benefits of our rewards program here, and sign up straight from your Online Portal!