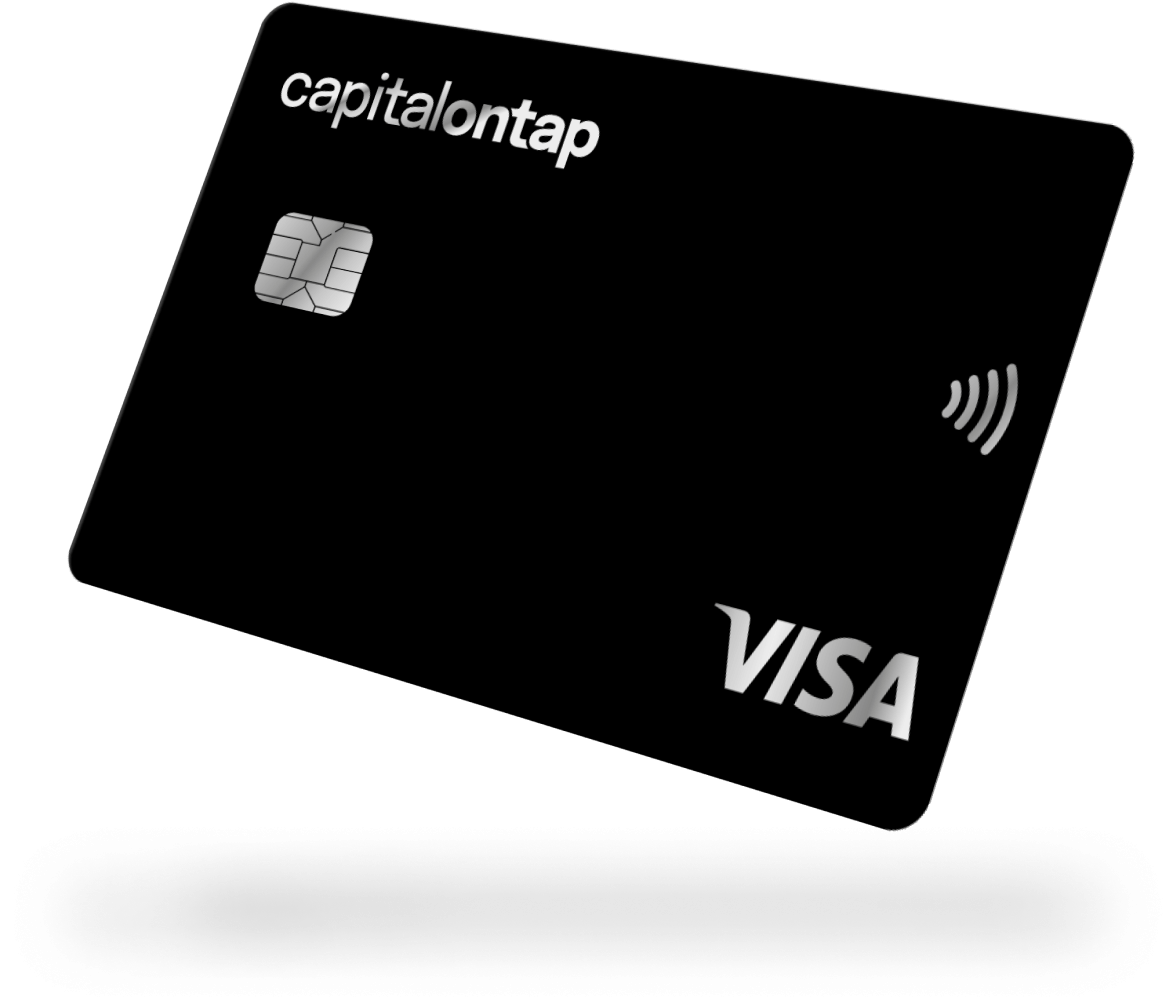 The business credit card custom built for small businesses.
Applying won't affect your credit score
Uncapped 1% cashback with no annual fee
Application and decision in less than 5 minutes
Credit limits up to £150,000
Free cards for your company
Up to 56 days interest free on card purchases
No FX or UK ATM charges
Great rates as low as 9.9% APR
Easy to use accounting integrations
Join Business Rewards to redeem points for Avios
Upgrade your spend with Business Rewards
As a business owner, you deserve to treat yourself for your hard work. Choose Business Rewards to be able to redeem your points for Avios. 
Even better, you will earn an extra 10,000 bonus points that you can redeem for £100 cashback or 10,000 Avios when you spend £5,000 on your card in your first 3 months.*
Learn more about Business Rewards
*Avios are issued and redeemed in accordance with the British Airways Executive Club terms and conditions. See ba.com/theclubterms.
How it works
Get a decision in under 30 seconds
Immediate access to your credit limit
Running your business just got easier
Open an account in under 5 minutes
Our application only takes a couple of minutes and you get a decision in under 30 seconds. Applying won't affect your credit score either.
Simple accounting integration
We have integrated with Xero, FreeAgent, Quickbooks and more to make it easier for your card transactions to automatically sync with your accounting software.
Unlimited cards for your company for free
Whether it is cards for your other directors, employees, or contractors - you have the flexibility to put all business spend on your Capital on Tap cards. With smart spend limits and easy tracking, you will know where every pound is being spent. Even better we don't charge fees for additional cards.
24/7 customer support
 We know how hard it is to run your business so we're here for you 24/7. Whether you want to chat, call, or email us - we are ready to support you.
Frequently asked questions
Everything you need to know about business credit cards
What is a business credit card?

A business credit card is a credit card assigned to your business, rather than an individual. It offers a revolving credit line and a monthly credit limit that can be used to pay off your company expenses. It's a convenient solution when a business needs to quickly access additional funds for short-term needs, or increase its purchasing power. Business credit cards often come with extra benefits for you and your company like business rewards, cards for your employees, or accounting software integration.

To find out more, read our "What are small business credit cards" guide. 

How do I apply for a business credit card?

The application process will be different for every credit card provider but you can usually apply online, by phone, or by visiting a branch. You will be asked to provide several details so it's worth having the required information to hand before you start your application. These may include your business details, personal details, desired credit limit, and what you are planning to use the credit card for.

To find out what information you may need and how to apply for the Capital on Tap business credit card, read our "How to choose the right credit card for your business?" guide.

To apply for the Capital on Tap credit card, click here.

How does a business credit card work?

A business credit card works the same way as your personal credit card but instead of being issued to your personal account, it's issued to your business account. Unlike your personal credit card, a business credit card should only be used to finance your business expenses. 

To find out more, read our "What is the difference between personal and business credit cards?" guide.

Why should I get a business credit card?

You can use your business credit card to help manage your cash flow. With our card, you can use your pre-approved credit without having to apply for finance every time you need extra funds and the cost can be spread over several months.

Please note, if you do not pay your balance in full each month, your card spend will no longer be interest-free. Any cash transactions (ATM withdrawals or Quick Transfers) will always incur interest. 

Business credit cards are not only an easy way of keeping your business expenses separate from your personal ones, but they also come with attractive rewards.

For example, you can earn cashback or loyalty scheme points on your business spend and use other benefits like accounting software integration and cards for your employees. 

To read more about the benefits of having a business credit card, read our "What is the difference between personal and business credit cards?" guide.

To find out more about business rewards credit cards, read our "What are rewards credit cards" guide.

Can a business credit card be used for personal use?

No, business credit cards need to be used for legitimate business purposes like corporate travels, phone and internet bills, stock, supplies or equipment. Business expenses can be submitted to the HMRC and offer tax deductions and savings on your company tax bill.  There may be an overlap between business and personal expenses, therefore, it's crucial that business expenses are not abused or it can make your tax return void and incur serious penalties. 

Read more in our "Can I get a business credit card for personal use?"  guide. 

Is a business credit card personally guaranteed?

A personal guarantee is a legally binding agreement that holds you responsible for paying off your credit card debt. As business credit cards are a type of unsecured finance, most providers will require a personal guarantee.