The holiday season isn't just about festivities; it's also a time for businesses to channel their goodwill towards the community they serve. As a small business owner, your efforts to give back can foster connections, build trust, and create a positive brand image. Here are ways your business can make a difference during this special time.


Key takeaways
Spread holiday cheer in your community by donating products, services, sales proceeds, or employee volunteer time to local charities. This boosts your brand image through generosity.
Support meaningful causes close to your heart to build customer and community loyalty. Match employee charitable contributions for maximum engagement.
Get creative with charitable initiatives like sponsoring families in need or coordinating holiday events. Collaborate with other local businesses for a bigger impact.
Giving back creates goodwill and inspires others to do the same. Make holiday generosity part of your ongoing brand identity and business culture.



Ways your business can give back to the community during the holidays
The holiday season provides many opportunities for businesses to make a positive impact in their community through charitable initiatives and goodwill gestures.


Sponsor a community or a charity
Small businesses can sponsor a community or charity during the holiday season to give back to their community. This can include donating money, goods, or services. Sponsoring a community or charity is a great way to show your support for your local community and help those in need.


Hold a fundraiser event
Hosting a fundraiser event during the holiday season can be an incredibly effective way for small businesses to give back to their community. Not only could such an event provide charitable donations and volunteer opportunities, but it might also help to boost brand awareness and build stronger relationships with customers. When selecting which type of fundraiser to organise, it may be helpful for businesses to consider their location, target demographic, and potential budget. For example, offering a seasonal festival or responding to immediate needs in the area can both be excellent choices.


Donate products, services, or sales
The holiday season provides a perfect opportunity for businesses to give back by donating products, services, or a portion of sales to charity. Retailers could offer free clothes to less fortunate families while restaurants provide free meals to those in need.
Donating a percentage of sales to charity is also impactful. Patagonia has long pledged 1% of sales to environmental causes. Not only does this provide direct relief, but it demonstrates a commitment to community improvement that builds goodwill and brand loyalty.
No matter what is donated, businesses can spread holiday cheer whilst supporting meaningful causes. The generosity and social awareness this represents is great for the community and the company's reputation.


Offer your time and expertise free of charge
You can leverage your background and skillset to help those who may not otherwise have access or knowledge to get a project completed. Not only will it provide much-needed assistance and resources to those in need, but it can also be incredibly rewarding for you. It can give you an opportunity to work on something that may not be available in your current field or career path while giving others the opportunity to benefit from what you have learnt or experienced.
Whether you choose to help out a local charity, teach career skills at a school, or mentor entrepreneurs in your neighbourhood, there's no limit to the ways you can make an impact with your knowledge and capabilities. You don't need extensive training – anyone who is passionate and motivated can share their skills for the benefit of others.


Volunteer for a good cause or establish an 'office volunteer day'
Establishing an 'office volunteer day' could be an inspiring way to unify and motivate your employees while channelling their collective strength towards meaningful charity projects. With everyone dedicating several hours a week or month, individual companies can have a considerable impact on hunger relief programmess, literacy initiatives, conservation efforts, and other worthy causes. Moreover, it can create a sense of fulfilment within the workplace unlike any other project could achieve. By organising regular office volunteer days, you could tap into greater employee engagement as well as contributing to your community. If employees feel they are working towards a good cause, it can increase their productivity by up to 37% (Deloitte 2021 Impact Survey).


Provide a holiday meal
To get started, get in touch with local food banks or homeless shelters and let them know you want to help. Then contact supermarkets, suppliers, and other suppliers in order to purchase the ingredients needed for your meal. You may even be able to solicit donations from businesses and individuals in order to reduce costs. Once everything has been acquired, create teams of volunteers who will block off the time needed to prepare, cook, serve, and clean up after the meal.


Collect toys or food donations
Toys can be given to children who may not have access to receive them otherwise and food donations can help supply those without enough resources during hard times. By holding a donation campaign, you will be able to reach hundreds of people with your message while encouraging your customers and members of the local community to participate in giving back. It's important to think ahead when planning an effective donation drive; deciding on how long you would like it to run, what type of donations should be accepted and how they should be handled are all essential components.


Sponsor a family
This is an opportunity to sponsor a low-income family's Christmas, where you purchase presents from their wishlist. Doing this with your employees can be particularly special as you work together to make the holidays a special time for your family.


Enable donations on your website
Encouraging donations on your website during this time of the year can provide an immediate impact in areas where it's both needed and most appreciated. From tax-deductible options that collect funds for a chosen charity, to micro payments that support small businesses impacted by the pandemic – there are lots of ways to harness the power of your website visitors to give back.
Plus, giving visitors the opportunity to make a difference helps build trust and strengthens relationships in many meaningful ways. Consider presenting the donations page prominently on your website home page for maximum visibility. Furthermore, look for options that let you customise embedded donation forms with motivational videos or calls-to-action from people within your organisation that have been personally affected by the issues they're working towards.


Reward your employees
The holiday season is a great time to reward your employees for their hard work. This not only shows your appreciation for their efforts, but it also helps to build morale and improve relations between management and staff. There are many ways to go about this, but some of the most popular options include giving bonuses, awarding holiday days, or providing gift cards. Whichever route you choose, remember that the key is to show your employees that you care about them and appreciate their contributions.


How to identify charities and organisations?
The number of charities registered with the Charity Commission for England and Wales is usually around 165,000! So finding the right charity for you can seem overwhelming.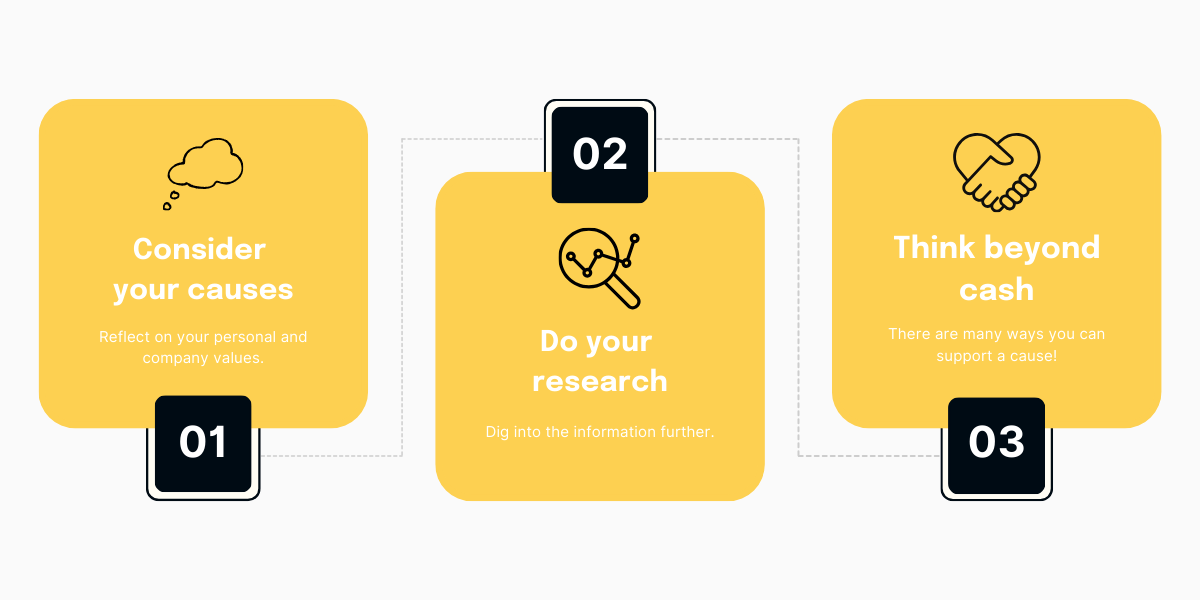 Consider your causes
Reflect on your personal and company values - what are you passionate about? It's important to find a charity that aligns with these. Have any of your employees been personally affected by something and would like to raise awareness of it?


Do your research
Once you've narrowed down your options, it's time to dig into the information further. You can also check out rating websites like Charity Navigator, which provide detailed information on the financial health of different organisations. Reach out to the charities you are considering and ask questions about their work. Taking the time to learn more about a charity before you donate will help ensure that your money is going towards a cause that you believe in.


Think beyond cash
There are many ways you can support a cause even if it's not your money. Volunteering is one of them! You could also do leafleting, bake sales or other events that don't require cash but will help raise awareness for an organisation in need.
When deciding what type of volunteering work best suits your skillset, considered both time commitment and skill level.
Do-it.org is a database of volunteering opportunities, which you can filter by interest, activity, and location.


Why is it important for your business to give back to the community during this holiday season?
Demonstrate care: Show that your business values more than just profit by investing time and resources in community welfare.
Forge community connections: Engage with local organisations to foster cooperation and understanding within the community, attracting new customers and employees.
Build trust and loyalty: By standing for social causes, you build trust and loyalty among consumers, aligning with their values and preferences.
Establish brand identity: Giving back becomes an integral part of your brand identity, setting your business apart and creating a positive impact.


The bottom line
The holiday season provides a special opportunity for businesses to give back to their community and make a positive impact. By donating products, services, sales proceeds, or time to charitable causes, companies can support those in need while also boosting brand image and employee engagement.