Capital on Tap looked at the number of local businesses that have been serving their communities for more than a quarter of a century to find the UK's best places for supporting local, and to highlight some of the oldest businesses that are still trading today.
With social distancing measures and more of us choosing to shop online, 2020 has been an incredibly challenging year for small businesses putting the future of millions of essential shops that have long been at the centre of our communities in doubt.
However, the importance of these local legends who have spent years serving our communities is not lost on us, in fact, since lockdown began in March searches for "Support Local Businesses" has increased by 163% when compared to the same time last year.
So, to find the best places in the UK for local businesses, we looked at how long essential local traders have been serving their communities and scored each area on the number of businesses that have been active for more than 25, 50 and even 100 years - as well as the total number of local legends per capita.
Top 50 places for supporting local business
We looked at the longevity of local businesses across 378 council areas to find the UK's best communities for local businesses.
While other areas may have more local legends per capita, the fact that Manchester has managed to sustain seven local businesses for more than 100 years helps to cement its place at number one on our list. 
One of Manchester's biggest legends is Forsyth's music shop (Forsyth Brothers LTD) that has been registered with Companies House since 1900. 
Manchester was also home to the oldest registered company included in our study, the Fallowfield Bowling and Lawn Tennis Club which has been a place for locals to enjoy the sports of bowls and tennis, and relax with a drink in the clubhouse for 150 years!
On a regional level, Yorkshire & the Humber gave London a run for its money with both having three appearances in the top 10 with Leeds, Sheffield and Kirklees proving to be among the best areas in the UK for supporting local.
Looking at the Top 50, the South West and North West both have nine total appearances while the North East and Northern Ireland have one apiece.
Biggest Legends 
In order to give a special shoutout to the businesses that have been keeping our communities going for generations, we tracked down some of the oldest registered essential local businesses from around the UK.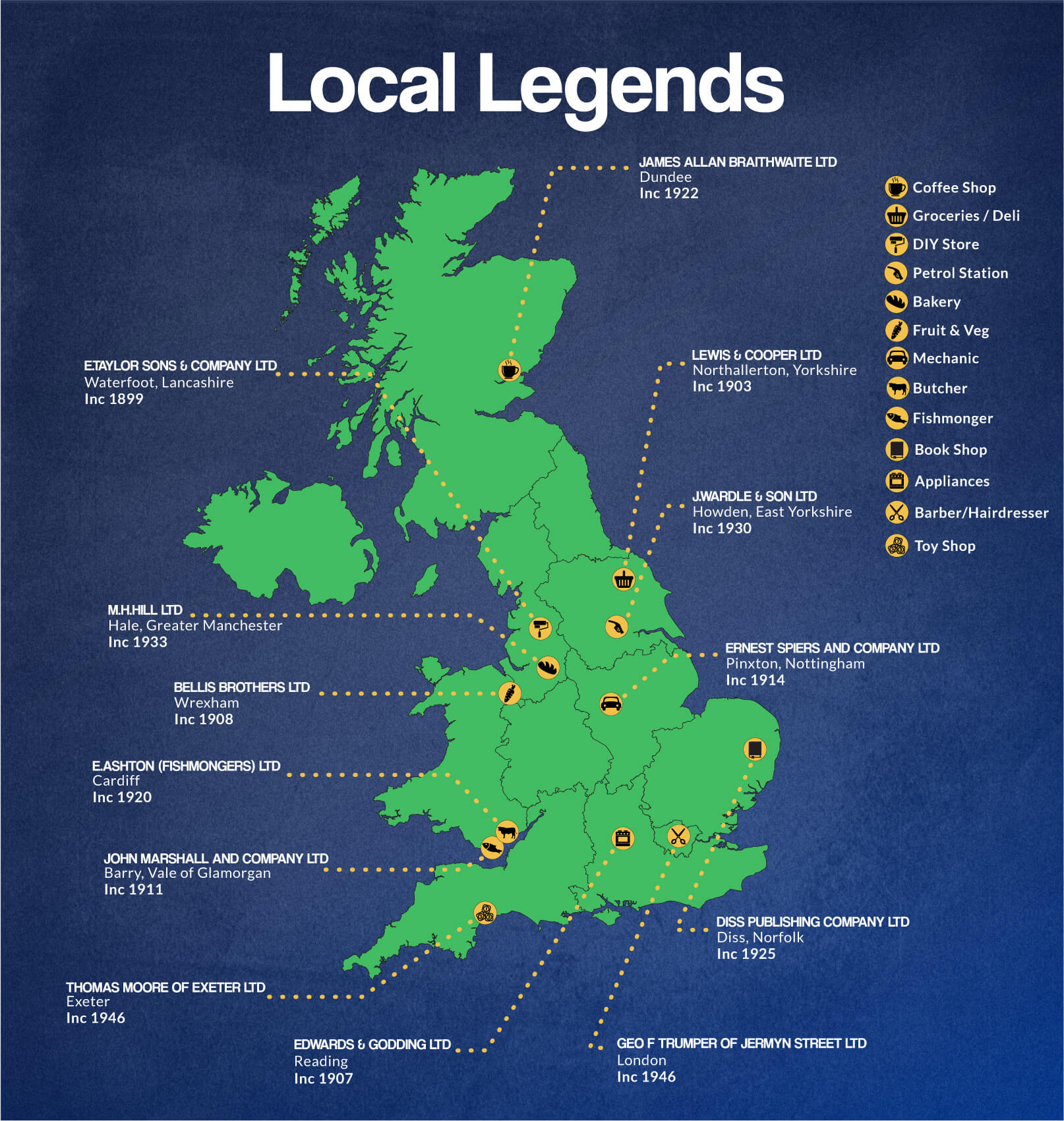 Know a local business deserving of a shoutout? Let people know about your #LocalLegend to and help support businesses in your area.
Who's shopping local this Christmas?
Christmas is a great time to support local businesses with independent shops providing opportunities to find unique gift ideas for friends and family. 
But with Christmas just around the corner, where in the UK are people most likely to shop local or independent this year?
We used Google Trends* to see which cities have been searching for local businesses online in the run-up to Christmas.
Search volume = 1-100
Manchester - search volume 100

Bristol - search volume 93

Edinburgh - search volume 92

London - search volume 84

Liverpool - search volume 84

Leeds - search volume 83

Sheffield - search volume 81

Glasgow - search volume 78

Birmingham - search volume 74

Cardiff - search volume 73
Topping both our Local Legends league table and the list of cities most interested in local business, Manchester doubles down on its claim as the best place for supporting local. 
Birmingham and Leeds also make a second appearance, as well as London who had three boroughs appear in our league table.
David Luck, CEO of Capital on Tap commented: "From bakeries to book shops, these traders are the lifeblood of local communities so it's great to see how businesses up and down the country have kept their doors open for so long.
"The last 9 months or so have been incredibly challenging for businesses everywhere, and while the future is still uncertain, seeing how so many businesses have managed to survive for more than 25 years, or even 100 in some cases, shows just how resilient the nation's entrepreneurs can be - with some continuing to trade despite two World Wars and numerous economic recessions.
"Even during a worldwide pandemic, local traders continued to serve their communities, often fronting the cost of PPE themselves and putting their own health at risk. That's why we believe that local business owners truly are legends who are well-deserving of a shoutout for keeping our cupboards stocked, and the economy going throughout 2020."
If you're looking for some help financing your business, you can access up to £50,000 with our business credit card, or get the most out of your spend with our business rewards card. 
Top tips for supporting local business
Buy local - online and in-store
When you're in town, try and prioritise your local businesses over large brands where possible.
Picking up your fruit & veg from a greengrocer instead of the supermarket will make a big difference to local sellers and suppliers. And if you're getting something in for the weekend, your local deli will be able to recommend something from their wine selection so you don't spend 15 minutes in the booze aisle just to walk away with the same bottle you got last time.
Shopping local can take a bit more time, so it might be worth checking if any of your favourites offer delivery or click-and-collect services. It's also worth giving them a follow on social media to keep up to date with their latest deals and offerings.
Give vouchers and gift cards
Due to lockdowns and social distancing, opportunities to visit local bars and restaurants have been few and far between in 2020.
So to help support some of your favourite spots, see if they're offering gift vouchers and give friends and family a date night on you this Christmas.
Rather than giving Christmas hampers or fancy wines and cheese, a gift card gives people the opportunity to go and choose a selection of goodies for themselves, and could also create a new customer for life.
Credit and reschedule over refund and cancel
When things go wrong, you're well within your rights to request a refund. However, if there's something that would make for a suitable replacement, try and opt for an exchange or store credit instead.
If you've paid a deposit on an event or restaurant, being open to moving the date rather than requesting the refund means that the business can hold on to your deposit and you'll still have something to look forward to, albeit a little further down the line.
Every little helps
While the pandemic has put a strain on most people's finances, if you can afford to tip a little extra then it could make a big difference to staff who have had their hours shortened.
Some bars and restaurants operate a system where tips are split between all staff and in other places, your tip will go directly to your server.  You can also tip delivery drivers directly through the app.
Always leave a review
Before purchasing from a small business or visiting a restaurant, many of us turn to sites like TripAdvisor and TrustPilot to see what others had to say.
Leaving a positive review - even if it's been a while since you visited or purchased - can help persuade others into becoming customers and could also help to give staff and business owners a little morale boost at the same time.
If you really want to go the extra mile, also consider giving businesses a shoutout on social media to let others know what they're missing.
Methodology
Using data from Companies House, we looked at the number of active local businesses that have been registered with Companies House for more than 25 years.
Businesses were grouped by the local council area of their registered address and each area was assigned a score for the number of businesses that have been registered for longer than 25 years, 50 years, and 100 years, and for the total number of legends per capita.
Businesses 50+ were worth double that of businesses 25+, and businesses older than 100 years old were worth double those of more than 50 years old.
Scores were weighted using a min-max normalisation formula.
SIC Code divisions analysed include:
Restaurants and mobile food service activities - 56.1

Beverage serving activities - 56.3

Retail sale in non-specialised stores - 47.11

Retail sale of food, beverages and tobacco in specialised stores - 47.2

Retail sale of other goods in specialised stores - 47.7

Maintenance and repair of motor vehicles - 45.2

Personal service activities - 96.0

Renting and leasing of personal and household goods- 77.2
Population =  ONS population estimates
* Google trends "near me"  01/11/20 -07/12/20
Caveats
Business age is the year that said the business was incorporated with Companies House which may differ from the year they were founded.