Published: 13 Jan 2021
Last updated: 26 May 2023
Capital on Tap have analysed more than half a million new businesses that registered since the start of lockdown, 23rd March 2020, to find the country's entrepreneurial hotspots during the coronavirus pandemic and the most popular types of businesses at this time.
The coronavirus pandemic forced millions of people to put many aspects of their lives on hold, but while some of us spent lockdown taking part in virtual PE classes or nursing a sourdough starter, others were using the extra time to start their own business.
But where were people most likely to start a new business and what industries saw the highest number of new businesses?
Capital on Tap have analysed more than a half a million new businesses registrations to find the country's entrepreneurial hotspots as well as the types of businesses they're starting.


The UK's lockdown entrepreneurial hotspots
We scored 346 UK local authorities and Greater London on the total number of registrations, the ratio of population to start-ups, and year-on-year registrations to find the areas with the most entrepreneurial spirit.
Explore the full dataset and find your local authority in this interactive table.
They say that economic uncertainty can provide an opportunity for entrepreneurs, and looking at the number of new businesses registered in the UK since the coronavirus pandemic began, it seems that people around the country are taking advantage of that opportunity.
In fact, more than 528,746 businesses have registered since the 23rd March 2020 (the beginning of lockdown) - that's an increase of 26% when compared to the same period the previous year. 
While London takes the top spot as the UK's lockdown entrepreneurial capital, Leicester also ranks near the top of the list after seeing an increase of 72% in new business registrations, accounting for one new business for every 66 people - all this despite spending more than 150 days in lockdown.
Rounding out the rest of the top 10 were Birmingham, Manchester, Leeds, Liverpool and Glasgow, as well as smaller local authorities including Wyre Forest, Luton, and Sandwell.
Most Entrepreneurial London Boroughs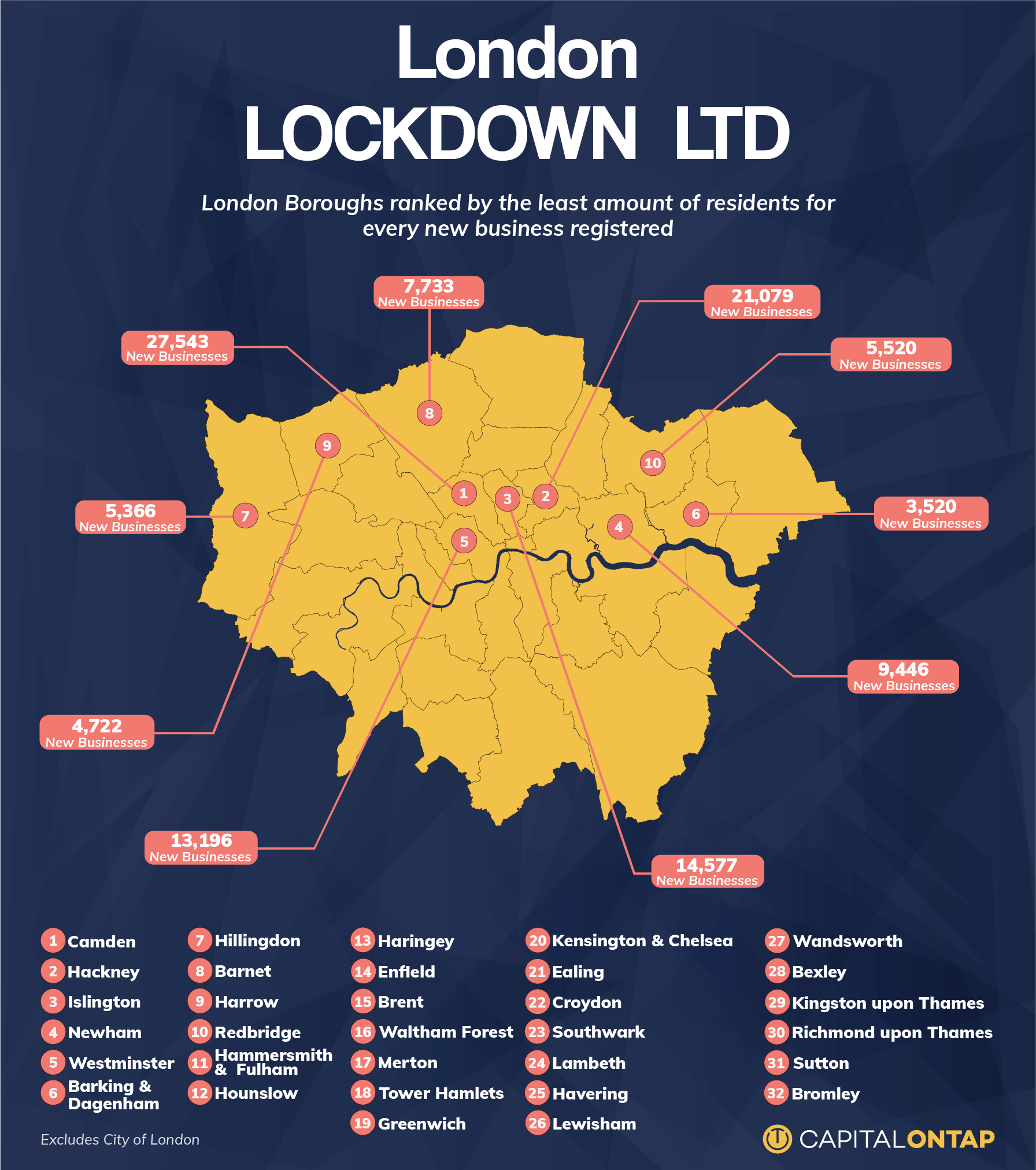 All top 10 of the most entrepreneurial London boroughs are north of the river with start-up powerhouses Camden and Hackney topping the list.
King's Cross, Silicon Roundabout and East London Tech City are home to some of the fastest-growing start-ups and scale-ups, including the likes of TransferWise, Monese, and Monzo - so while it's not surprising to see Camden and Hackney in first and second place, it's encouraging to see that the uncertainty brought about by the pandemic has done little to dampen the confidence of budding entrepreneurs.
Most Common New Business Types
Rise of the homepreneur
Apple, Amazon and Disney all began in their founders' homes and garages, and all across the UK lockdown has led to a surge in new businesses such as online retailers that can easily be run from home thanks to online marketplaces like eBay and Etsy. 
In fact, online and mail-order retail businesses alone accounted for more than 5% of all new registrations from March to December.
While working from the comfort of your own home comes with benefits such as allowing you to be more flexible in your working hours, spending more time with family, and foregoing the daily commute - it can sometimes be difficult to remain motivated and productive.
If you're working or running a business from home, the NHS has put together a list of tips to help you feel more productive whilst also taking care of your physical and mental health that you can find here.
Bricks and mortar
Restrictions imposed on house viewings and home removals during the height of the lockdown put the brakes on the housing market, however, despite this uncertainty the housing development, property rental and construction sectors all saw a large number of new registrations. 
In June, the Prime Minister announced new rules overhauling planning permission that would make it easier to create new homes and residential property. It's possible that these new rules helped to ease concerns and even encouraged people to take advantage of these new rules by setting up their own property and housing businesses.
Those who did make the leap may have had some early rewards as pent up demand and the temporary stamp duty holiday led to a surge in eager buyers over the summer months.
The digital transformation
Remote working also led to increased demand in digital services such as IT Consultancy, Software development, and Tech Support Services - all appearing in the top 25.
While businesses that already had home or remote working policies would have found it easier to adapt, many traditional industries have had to completely rethink the ways in which they work in a very small amount of time. This would likely have led to an increase in demand for expertise and services to help guide them through the process.
Likewise, people who already worked in digital industries who had a positive experience of remote working may have been given the boost they needed to start their own businesses and help others with their transition.
Most Common New Businesses by Region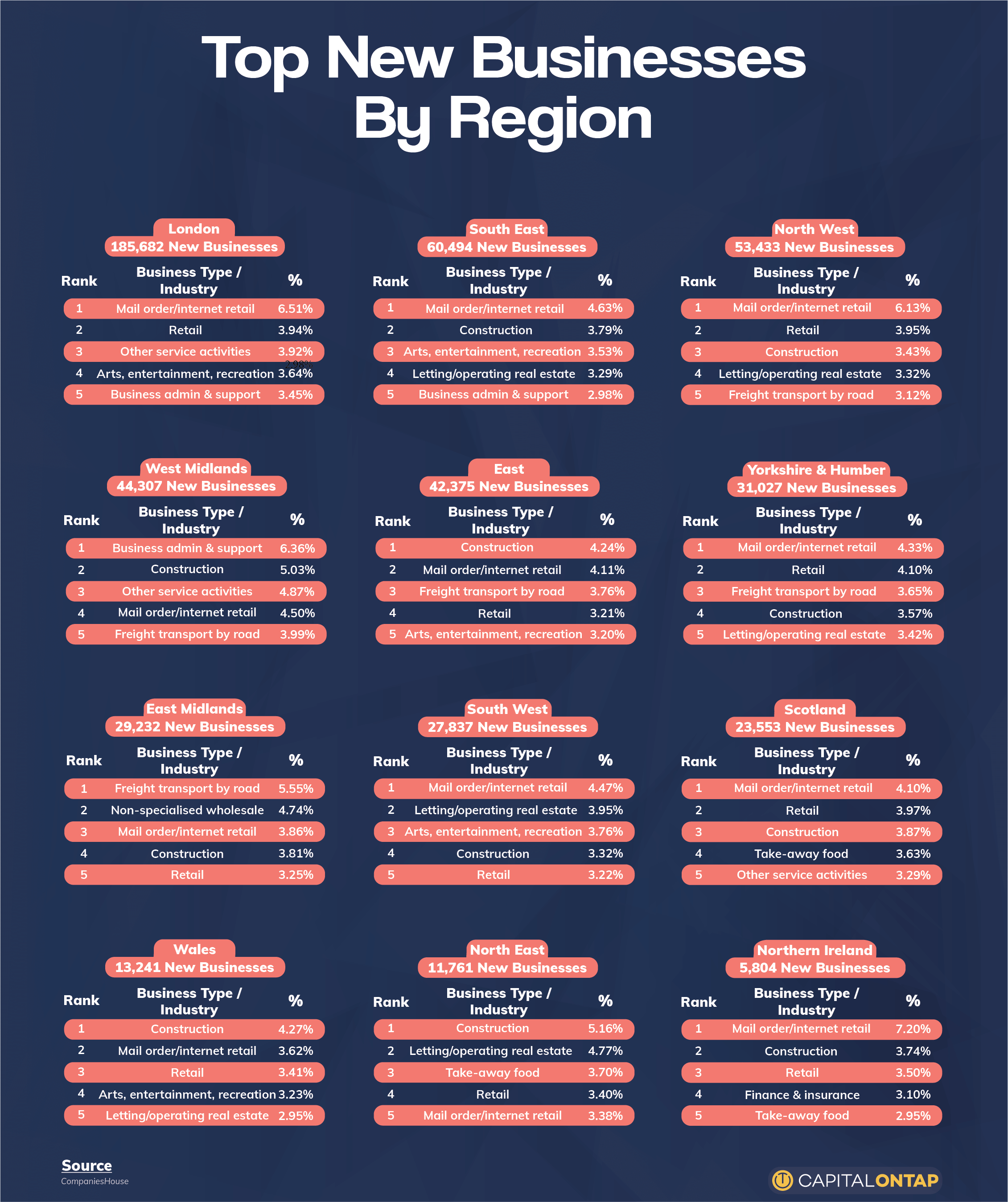 David Luck, CEO of Capital on Tap commented: "The disruption caused by coronavirus pandemic has had a significant impact on people, businesses, and the global economy, so it's inspiring to see so many entrepreneurs backing themselves and seizing the opportunity to start their own businesses.
"With remote working increasing our reliance on technology, it's not surprising to see digital and IT businesses dominating the list of the most common new registrations, however, the increase in online retail and food delivery businesses would seem to suggest that large numbers of people are starting new business ventures from home and using online marketplaces and delivery apps to turn their passions into successful small businesses.
"Whether you're just starting out or you've been around for a while, running a business is hard enough without having to worry about funding. That's why we believe in offering quick, straight-forward funding options so that you can focus on the bigger picture."
If you need help growing your business, you can access up to £50,000 in funding with our business credit card, or get the most out of your spend with our business rewards card. 


Help with starting a business
If you're thinking of starting a business there are plenty of organisations that can help, here are a few to get you started:
Methodology:
An analysis of all businesses registered with Companies House between 24th March - December 2020 and the same period in 2019;

New businesses registered by local council area; 

London Boroughs consolidated to Greater London for national rankings;

SIC Codes aggregated by Standard Industrial Classification 2007;

Most Common New Businesses = % of active registered with assigned SIC code.
Caveats:
Excludes City of London;

Excludes charitable, community interest companies and publicly traded companies.