Small Business Saturday is back, and it's time to prepare for another exciting year! It's a day when your business can shine, connect with your community, and attract new customers eager to support their neighbourhood gems.
In this blog, we'll explore ideas and strategies to make Small Business Saturday 2023 your most successful yet. From leveraging the power of online marketing to creating a festive in-store atmosphere, we'll cover everything you need to know to maximise your presence and impact during this annual shopping extravaganza.
Whether you're a seasoned participant or a Small Business Saturday newcomer, our goal is to provide you with a toolkit of insights, inspiration, and practical tips to help you thrive. 


Trends for Small Business Saturday 2023
Before we get into our tips, we wanted to take a step back and look at what we expect to be big for this year.
First, sustainability is under the spotlight! Shoppers care about eco-friendly practices - make sure to promote things like recycled packaging, minimising waste, using local ingredients. It's a major focus for environmentally-conscious customers.
Next, create engaging experiences that build relationships, not just transactions. Offer custom gifts, special events, rewards programmes and use social media to connect with shoppers.
Finally, play up your local roots and community ties. Show how your business gives back through partnerships, donations or supporting other local businesses.
Use Small Business Saturday as a chance to highlight your unique neighbourhood offerings and really differentiate from big national retailers. 


How to prepare your business for Small Business Saturday
To make the most of this day, it's important to prepare in advance. Keep reading for some top tips to help you get started.


Register your small business
The Small Business Saturday website has a search tool which allows customers to search in their local area for whatever kind of business they need. Register your business to be included in these results, opening your business up to new potential customers!


Own your identity as a small business
As a small business, it's important that you own your identity. Don't try to be something you're not - be authentic, and stay true to your brand. When you're clear about who you are and what you stand for, it'll be easier to attract your ideal customers and clients. People are looking for connection and meaning, so if you can give them that, you're well on your way to success. Remember, there's only one you - so make sure the world knows it!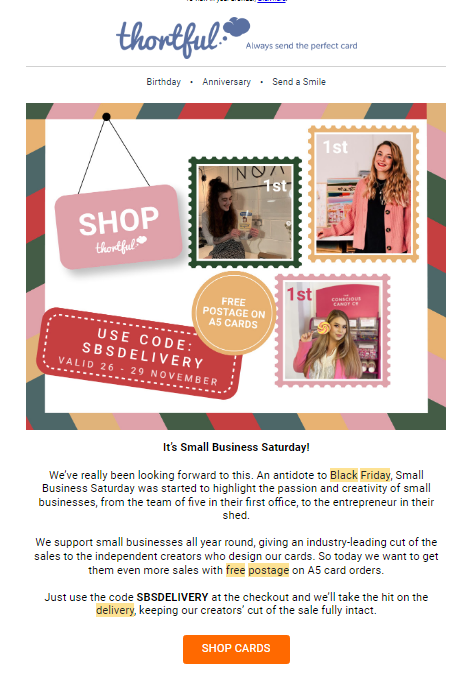 Prepare a good deal or discount
In the run up to the festive season, customers are often on the lookout for discounts and promotions to help them save on their holiday shopping! Take a look at your inventory and see what deals or discounts you can offer. Do you have any items that are perfect for holiday gifts? Or items that would be especially popular this time of year?


Reach customers on social media and use hashtags
Hashtags are a great way to reach customers on social media, and Small Business Saturday is the perfect opportunity to use them to promote your business. When customers search for #SmallBusinessSaturday on social platforms like Twitter and Instagram, they'll see a list of businesses that are participating in the event.
By tagging your posts with #SmallBusinessSaturday, you can make sure that your business appears in the search results and reaches potential customers who might not otherwise be aware of your company.


Use local media
This is a great way to get your business out there. Make a list of the local media outlets that are most relevant to your customers. This could include newspapers, TV stations, radio stations, and websites.
Reach out to these outlets and offer to write a guest blog post, give an interview, or provide some other type of content around being a small business owner participating in Small Business Saturday.


Promote user-generated content
This can be anything from customer reviews and testimonials to photos and videos taken by customers. User-generated content is powerful because it comes from real people who have actually used your product or service. This gives it an authenticity that can be hard to come by with traditional advertising.


Work with local influencers
Working with local influencers allows you to tap into their large networks while focusing on a relevant audience. They can offer: 
Local expertise: They understand your community's tastes and trends.
Trust and authenticity: Their endorsements are highly trusted by their followers.
Diverse platforms: They operate on various social media channels, extending your reach.
Authentic content: They create engaging, authentic content.


Do your research
To get started, search on popular social media platforms like Instagram, Twitter, TikTok, and Facebook. Use relevant hashtags and location-based searches to find influencers in your area. 


Reach out and introduce yourself
Once you've identified a few potential influencers, reach out and introduce yourself. Tell them a little bit about your business and why you think they'd be a great fit for promoting it.


Make it easy for them 
Provide the influencer with all the information they need, including high-quality images, a call to action, and any other relevant details. The easier you make it for them, the more likely they are to promote your business.


Prepare your physical or online store (or both)
Whether you have a physical or online store make sure that you have a good level of stock and enough staff to manage the day. Make sure your staff are prepared for an influx of customers and offer them additional training, if necessary.


Host a Small Business Saturday event (online or in person)
Partner with other small businesses to host a Small Business Saturday event. In addition to networking opportunities, it's also an ideal place for you to showcase your products to a wider range of customers.
Start by finding a venue, for example, a local market or hall. Invite other businesses to set up tables and merchandise and encourage them to advertise it widely!
Partnering is a great way to increase your exposure, maximise profits, and build a sense of community.


Support a local cause
Small Business Saturday is the perfect opportunity for businesses nationwide to get involved and make a difference in their local communities. With so many causes fighting for attention, it can be difficult to choose one to support. By picking a cause that has broad appeal and can be marketed effectively, you'll have the most impact.
With the right causes selected and promoted, business owners on Small Business Saturday will be able to contribute even more than usual by setting aside part of their revenue or organising donations. No matter how large or small the effort is, it's a great way to get involved locally, and show that small businesses can make big changes too!


Extend your hours
It could be worth extending your hours on Small Business Saturday to allow your customers extra time to browse your shop and take advantage of any offers. If you're an online business, you could extend your order cut-off time or keep your customer service open a little later.


Stock up on popular items
Review your sales over the past 12 months and figure out what your most popular items are. In particular look at what items customers bought as gifts for the festive season - these are likely to be a hit with customers doing their Christmas shopping!


Why get involved with Small Business Saturday?
As a small business, getting involved in Small Business Saturday can be a great way to increase exposure and attract new customers.


Reach out to new clients
With people around the country looking to support local businesses, it's the perfect opportunity to make a mark and tap into a new pool of customers. Resources like the Small Business Finder tool means new customers can easily find your business, so make sure you're registered.


Increase your sales
On Small Business Saturday customers are often on the lookout for unique products or services that they can't find anywhere else, so it's a great chance to boost your sales.
Prioritise your most popular gift items to maximise the holiday shopping opportunity!


Encourage customer loyalty 
From shopping hours to special offers, building customer loyalty is essential for keeping your business running smoothly and boosting profits in the long-term. Getting involved in Small Business Saturday means you can reach more customers than ever before, spread the word about your business, and build strong relationships with potential customers. Additionally, you can create exciting offers that are only available on Small Business Saturday to encourage shoppers to visit your store over the competition.


Create a community spirit
Small Business Saturday encourages local communities to support their small businesses. As a business, this offers you the perfect opportunity to reflect the spirit of your community by partnering with other local entrepreneurs and hosting exciting events to drive more customers your way. Getting involved shows that you are committed to bringing about positive changes in your area and spreads hope in those times when it is hard for people to stay motivated. A study from IW Capital last year, shows that 58% of Brits plan to shop more at their local high street this year, providing essential support, and 47% expect the small business sector to experience rapid growth.


Frequently Asked Questions
What is Small Business Saturday?
Small Business Saturday UK is a grassroots campaign dedicated to supporting small businesses and highlighting their crucial role in the economy. Established in 2013, it takes place annually and encourages people to 'shop local' by visiting or buying from small independent shops, artisans and entrepreneurs. Given that these businesses are often competing with larger companies for customers, the day serves as a much-needed opportunity to draw attention to their incredible products and services.


When is Small Business Saturday 2023?
The next Small Business Saturday takes place on December 2nd, 2023. 


Who participates in Small Business Saturday?
Absolutely everyone! Whether you're a shopper looking to support local businesses or a small business owner, anyone who wants to champion the cause of small business can take part.