The demand for housing in recent years has pushed house prices to dizzying heights, and whether you're looking for your first home, something with a bit more room, or a place to retire, the cost of moving has many people wondering whether it might be easier to build their own home rather than competing with other prospective buyers for that perfect property.
But if watching a few episodes of Grand Designs has left you with some grand ideas, it's worth noting that the construction cost of a typical home can vary considerably by location - as well as other costs such as land, fees, and taxes.
But which cities have the highest construction costs and how much would it cost to build an average-sized home?
Here at Capital On Tap, we've collected data on build costs per m2 and averaged sized homes for 50 cities around the world to find the most and least expensive places to build your own home.
Cost of Building a House in New York
Building a home in New York can be a complicated process with zoning laws dictating everything from the square footage that you're allowed to build, how tall your house can be, the minimum size of your yard, and even whether or not you can have a detached garage.
As the most populous city in the US, finding a free lot on which to build your dream home might also be difficult - in which case you'll need to buy a property to demolish to free up space. 
With the average house price being £551,951 ($733,289), total costs are already around £1million before you've even paid for building permits or hired an architect to design your new property. 
Cost of Building a House in San Francisco
While the direct cost of £331,277 ($439,942) might not sound too bad for a custom-built home in San Francisco, the high demand for space means that a plot of land in some of the cities most desirable areas can cost around £6,500 - £7,500 per m2 ($600-$700 per sq ft).
Other pitfalls include seasonal building restrictions and the public process that allows future neighbours to challenge and alter the designs of your home.
Cost of Building a House in Vancouver
Suffering from a lack of housing supply, the average house price in Vancouver is now over £800,000 ($1million) - so it's understandable that some might be tempted to opt for a self-build home.
Naturally, land in more rural areas is significantly cheaper than in urban locations and permit fees can scale with the total cost of the build.
To save on the cost, you could consider a pre-designed home from an experienced home builder instead of a custom build. 
Cost of Building a House in London
At £3,163 ($4,200), London is the second most expensive place in the world to build a square meter of property.
Finding the space to build will likely be one of the biggest challenges for prospective self-builders in London, and the competition for plots means that they'll likely have to pay a premium for the land.
If you're building on a narrow street or the plot is accessed via a lane or mews street, then difficult site access and the cost of parking permits for workers and skips can also contribute to the costs over the duration of your build.
Construction costs for a typical home in 50 cities
Explore the data for build costs per m2, average-sized homes, and total construction costs in the table below.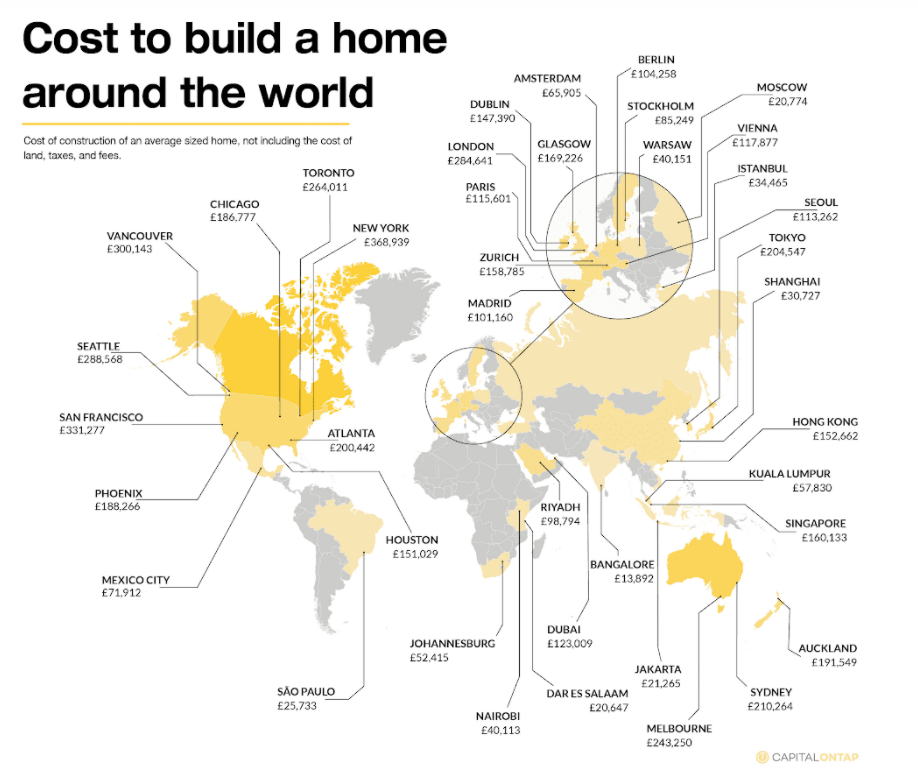 Most expensive cities to build a home per m2
Hong Kong - £3,392
London - £3,163
Tokyo - £3,099
New York - £2,331
Singapore - £2,288
San Francisco - £2,161
Seattle - £1,883
Toronto - £1,879
Vancouver - £1,870
Dublin - £1,820
There are numerous factors that contribute to average building costs, including the demand for materials, availability of space, and availability of labour -  so it's not surprising that the most expensive places to build are also large cities where construction work is seemingly never-ending.
As a result of the pandemic, the price of key materials like rebar, timber, and copper pipe increased by as much as 40% in some places, the cost of which is naturally passed on to the end customer.
Who has the largest homes?
Despite the likes of Ikea helping people to make the most of small spaces, some people just prefer having a bit more space.
But with the footprint of a house playing a large role in construction costs, what cities have the biggest homes on average?
Melbourne - 202 m2
Houston - 181 m2
Atlanta - 178 m2
Phoenix - 170 m2
Sydney - 163 m2
Vancouver - 161 m2
New York - 158 m2
Indianapolis - 156 m2
San Francisco - 153 m2
Seattle - 153 m2
At 202 m2, the average new build home in Melbourne has more than twice the floor space of an average UK home which is estimated to be around 90 m2.
Hugh Acland from Capital on Tap commented: "Between work stoppages and the increased cost of materials, both multi-billion pound home builders and local tradespeople have felt the impact of the coronavirus pandemic.
"As things have largely returned to normal for many industries, it's likely that the construction sector will still be feeling the effects of the last 18 months or so for a while, meaning that it could be some time before construction prices normalize and return to pre-pandemic levels.
"However, while large companies are more resistant to increased costs and loss of revenue, small businesses and independent traders are much more vulnerable and might want to consider external funding to help spread any additional costs over time."
Whether you're a builders merchant or a local DIY store, build your business with the help of a business credit card from Capital on Tap.
Methodology
Construction costs per m2 for townhouses, terraced houses, and detached houses of a medium standard.

Source: International construction market survey 2019-2021.

Where available, the average size of a home by city was used. Where not available, the national average was used.
Average house sizes were sourced from a variety of publications including academic studies and local news publications.

Full list of sources is available here.

Average house prices sourced from property sale sites such as Zillow and Rightmove.