Published: 24 May 2023
Last updated: 24 May 2023
At Capital on Tap, we are fully focused on equality and believe deeply in diversity of race, gender, sexual orientation, religion, ethnicity, ability, national origin and all the other characteristics that make us who we are. We want to be a place where a diverse mix of talented people want to come and do their best work and most importantly feel included and that they can be their authentic selves. 
What is the Gender Pay Gap (GPG)?
The gender pay gap (GPG) is the difference between the average (mean or median) earnings of men and women across a workforce. It's expressed as a percentage of men's earnings. As part of the GPG report, the bonus pay gap is also calculated - this is the difference between men's and women's bonuses over the year, expressed as a percentage of men's bonuses. The data used to calculate each pay gap uses the 5 April snapshot date each year in line with the government's reporting requirements.
In our report, gender definitions are based on current legal definitions and collection requirements. However, we recognise that not everyone's gender identity fits within this binary, and not everyone is yet legally able to be defined as the gender that they would like to be. In the future, we'd like this report to be a more inclusive representation.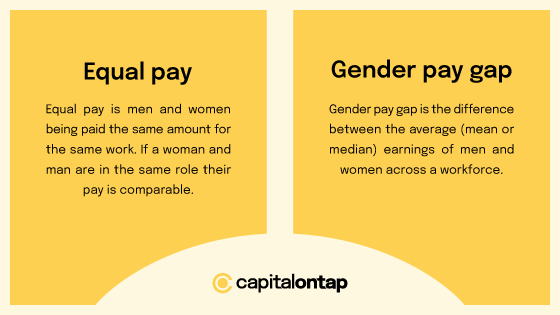 What is the difference between the GPG and equal pay?
Equal pay is something Capital on Tap monitors closely and all roles are paid equally. If a woman and man are in the same role their pay is comparable.
The GPG report is different to and not a measure of equal pay. Equal pay is a legal requirement to pay people performing an equal job at equal pay (Equality Act 2010). The GPG, whilst also about pay, highlights the types of roles men and women hold in an organisation. It's used to analyse whether there is an imbalance of genders at senior level or in high-demand roles such as engineering. 
2022 GPG Salary Data
This data only applies to Capital on Tap's UK employees.
There are two calculations that show the average gender pay gap as a percentage of men's pay, which are the mean GPG and the median GPG.
The company mean GPG is 35% and the company median GPG is 42%.
We recognise that the gender pay gap (both median and mean) is high. The main driver of our gap is a lower proportion of women in senior leadership roles and fewer women in professions which attract higher salaries, such as engineering. This can be seen in the quartile data below. Improving our GPG remains a core priority. The outlined actions to continue to focus on these areas are below.
The quartile data was calculated by sorting our employees in a list according to hourly rate of pay, from highest to lowest paid. This was then divided into four equal parts (quarters with Q1 representing the top 25% of earners) and the percentage of men and women in each quarter was worked out.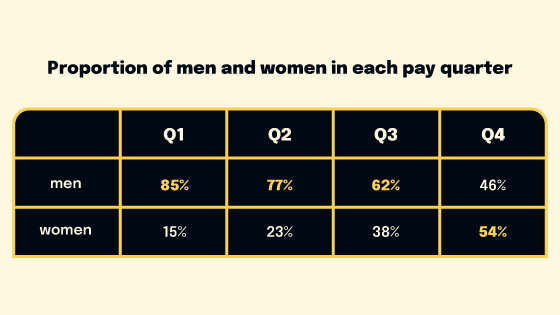 2022 Bonus Pay Gap Data
This data only applies to Capital on Tap's UK employees.
There are two calculations that show the average gender pay gap in bonus pay as a percentage of men's bonus pay, which are the mean bonus gap and the median bonus gap.
The company mean bonus gap is 53% and the company median bonus gap is 11%.
We also calculated the percentage of men and women receiving a bonus over the 12 months prior to the calculation. 79% of men received a bonus and 69% of women received a bonus.
We have a few payments that fall under the category of bonus as defined for the purposes of this report. This includes referral and sign-on bonuses, as well as performance-based bonuses for select customer-facing teams. 
Whilst a similar number of men and women were eligible for bonuses, the large disparity in the mean bonus rate comes from a number of sign-on bonuses for critical roles within this time period. A significant proportion were for engineering roles. 
What we're doing to close the gender pay gap
Closing the gender pay gap is an on-going priority for us. Below are a few initiatives we've put in place to address key areas of development.
We believe in internal career development and progression. We've established and launched career progression frameworks for the majority of our existing roles within the company, which are available to our staff from day one. This is to standardise development opportunities across the company and to create a transparent framework and process. We also provide manager training for having career development conversations.
The adoption of the career progression frameworks has allowed many people to get promoted within the company. We've had many women progress on to the next role within their framework and beyond. In 2022, 32.5% of women and 22% of men were promoted from entry and mid-level positions, supporting a stronger female pipeline for future senior positions.
To further support development, we're launching an internal mentoring program, which provides the opportunity for mentees to meet and be mentored by our leadership on a one-on-one basis. This will focus on giving people the right guidance and mentorship to excel and progress in their careers. 
As for our hiring process, we provide our hiring managers regular training around best recruitment practices, including inclusive recruitment and interview tips. This is to ensure that each candidate gets treated fairly in the recruitment process, and has a great experience interviewing with us. We also continue to advertise our open roles internally to provide further opportunities for people to progress in different roles.