Capital on Tap wins at inaugural Finder Lending Innovation Awards
Capital on Tap has won the Business Credit Cards Innovation award at the  inaugural Finder Lending Innovation Awards.
Finder's new series of Innovation Awards recognise financial providers that are innovating in their field, by bringing new and impactful features to the market and delivering beneficial services to their customers.
The shortlist of finalists in each category was selected by Finder's subject area specialists, who identified the providers they felt were displaying key innovations in their field.
The shortlist was then passed to an expert judging panel, who decided the winning and highly commended companies by assessing the finalists across three different criteria: uniqueness of innovation, impact in the market and value to customers.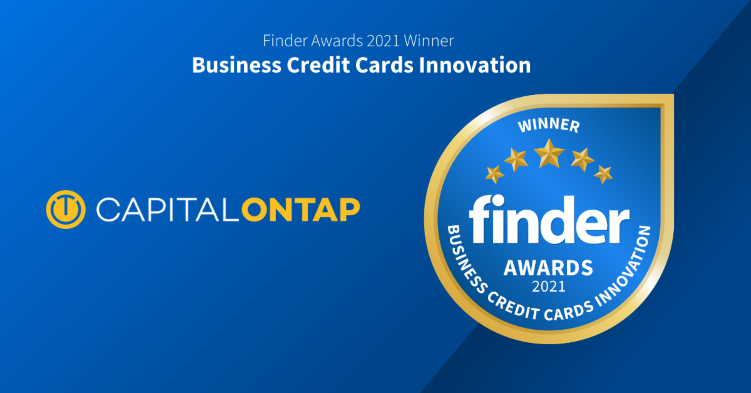 Commenting on the awards, Chris Lilly, Credit & Loans Publisher at finder.com, said: 
"The last year or so has been tough for the lending sector – with the calculation of risk presenting unprecedented challenges, and with ever-increasing regulatory pressures. So, against this backdrop, it was fantastic to see real innovation continuing... and there's no doubt that having innovative lending, credit, mortgage, shopping and salary advance solutions that work for a range of situations will have been very helpful."
The Finder Lending Innovation honour follows Capital on Tap 's recognition as a finalist for the Fintech Company of the Year at the 2021 Global Business Tech Awards. 
"We are very pleased that we have been presented with a Business Credit Card Innovation award by Finder and thrilled that our customers continue to select us as their preferred payment solution," said  Hugh Acland, UK Head of Growth at Capital on Tap. "Helping small businesses thrive is central to our vision, and we are delighted that our commitment to achieving this by building simple, innovative tools for real-world businesses to achieve great things has been recognised." 
For the full list of winners and finalists from the Lending Innovation Awards, visit https://www.finder.com/uk/.