Published: 27 Mar 2023
Last updated: 27 Mar 2023
Read time: minutes
Small business owners who have built their businesses using the free edition of G Suite now have to pay for a subscription to Google Workspace or migrate to an alternative platform. For years, small businesses have used Google Workspace apps to work effectively, using Chats to improve communication, Slides to create engaging presentations, and Docs to collaborate more efficiently. Now, businesses who have streamlined their operations using Google's platform face a choice: pay for the privilege or find an alternative.
As a business owner, the subscription charge may not cause you hassle, but finding the time to compare alternatives and deciding whether to switch could be a major headache. That's why we've done the hard work for you and compared the leading Google Workspace competitors.


Why is Gmail not free anymore?
Google's Gmail is still free for personal use, and for nonprofit organisations and educational institutions. However, all other businesses must now subscribe to Google Workspace to access Gmail.
Google said the purpose of this change is to provide your business with the necessary tools and features to manage your email inbox and other operations more effectively and securely.


What does Google Workspace include?
There are different subscription options available depending on your business needs. Subscribing to any Google Workspace plan will give you and your employees access to all of Google's apps including Meets, Docs, and Drive, not just Gmail.
Each Google Workspace plan has different additional features:


Business Starter
The Business Starter subscription on Google Workspace is ideal for small businesses and start-ups that only require basic productivity tools, like Docs and Drive, to manage their work efficiently. The Business Starter plan allows you to keep custom business email addresses, and host Meets for up to 100 participants. It offers 30GB of cloud storage per user and can be accessed on both desktop and mobile devices.


Business Standard
The Business Standard subscription offers 2 TB of cloud storage, shared drives, and more advanced security features. It also offers an upgrade to video meetings, providing 150-participant video meetings and the option to record meetings.


Business Plus
With 5 TB of storage per user and enhanced security controls, Business Plus is tailored to businesses that require advanced security and compliance measures, such as those in the healthcare or finance industries, as well as those with a larger number of employees who need access to more storage space. Additionally, if your business relies heavily on collaboration and communication tools, such as 500+ person video conferencing and shared calendars, it will benefit from the features offered in the Business Plus plan.


Enterprise
Google Workspace's Enterprise plan is the most advanced and comprehensive subscription offered by Google. It includes all the features of the Basic and Business plans, plus additional security and administrative controls. It also offers advanced analytics and reporting tools, including audit reports and Drive activity logs, which would help you or any administrators monitor usage and identify potential security issues. Additionally, the Enterprise plan provides unlimited storage and archiving capabilities, which makes it ideal for large organisations with complex IT requirements.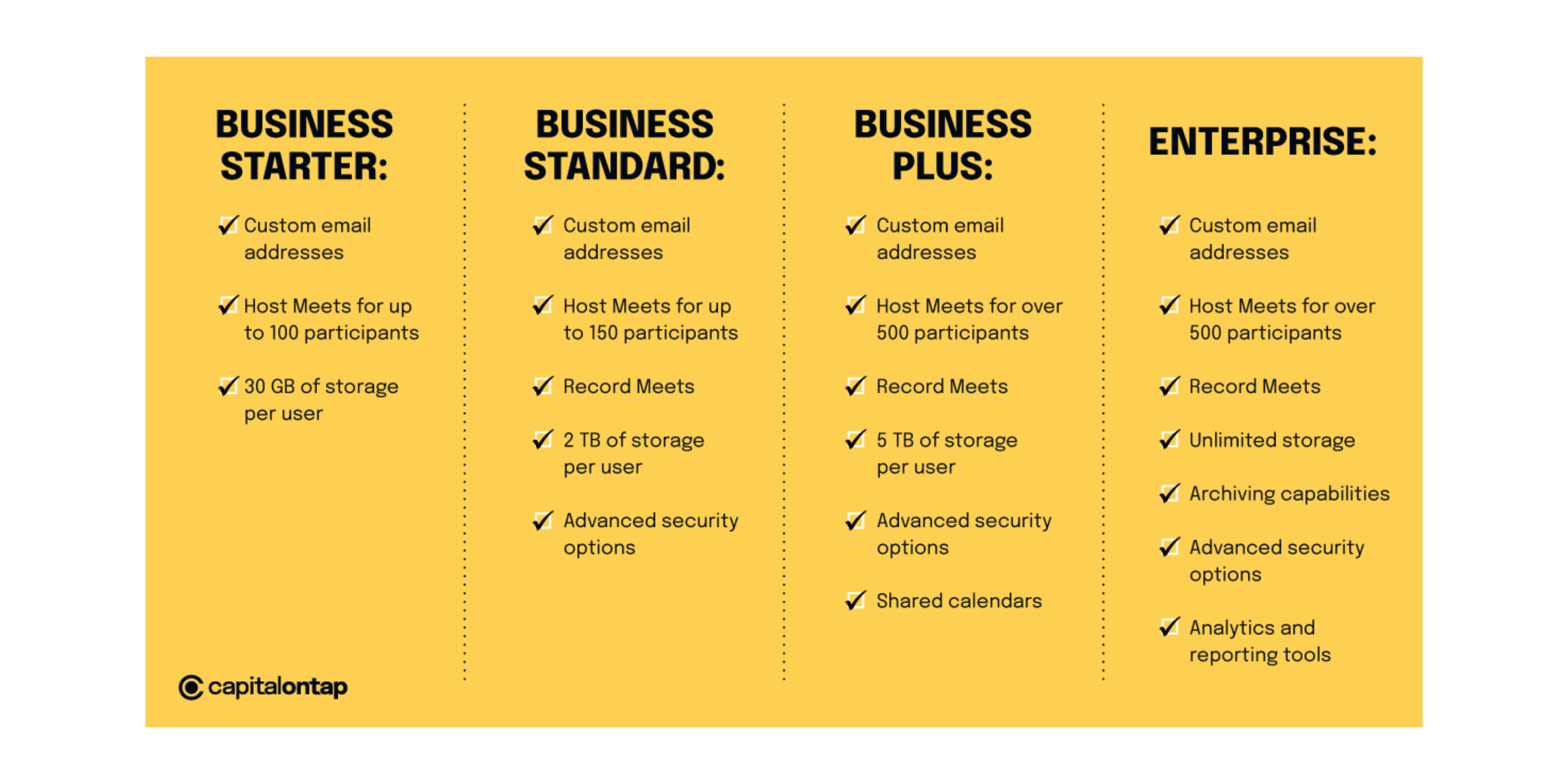 What's Google Workspace's pricing?
The cost of Google Workspace will depend on the plan you opt for.
Business Starter: £4.60 per user/per month

Business Standard: £9.20 per user/per month
Business Plus: £13.80 per user/per month
Enterprise: Contact Google Sales for pricing
Google's Workspace operates as a subscription-based service that requires a monthly fee for each user. This means that after the free 14-day trial period, you need to pay for each individual employee that uses Workspace on a per-month basis.
All employees in the same domain will need to be subscribed to the same plan - it's not possible to have different plans for different users inside the same business.
If you choose to subscribe to Google Workspace, you must factor it into your business budget as a fixed cost.


What is the best alternative to Google Workspace?
If you're comfortable with using Google's apps and want to keep your custom email address, for the sake of ease it's worth considering simply subscribing to Workspace. 
However, if Workspace isn't for you or you want to switch to something more affordable, here's Capital on Tap UK's comparison of Google Workspace alternatives: 


Microsoft Office 365
Microsoft 365 provides affordable pricing, familiar applications, and useful features compared to Google Workspace. The Business Basic plan offers access to the full web and app versions of the Office Suite, with each user receiving 1 TB of OneDrive storage.
In addition to this, the plan includes 24/7 phone and online support, enabling users to tackle any problem that may occur. A custom domain name with a generous 50GB email inbox is also available. Finally, its chat platform, Microsoft Teams, is included in this package, making it a comprehensive alternative to Workspace for your business.
Price: After a 1 month free trial period, Microsoft has 4 available plans at £4.50, £7.90, £9.40, and £16.60 per user per month.


Zoho
Zoho provides a comprehensive email service, complete with a custom domain, file management, productivity apps, communications tools, and online meeting space.
On the free plan you can add up to five users to your workspace. Each user is given 5GB of storage space and a 25 MB email attachment limit. Zoho apps are not available on your devices, so you'll need to use your browser.
Price: The Forever Free Plan is a great option for new businesses or those with a tight budget. If your business needs more, Zoho offers affordable plans at just £0.80, £2.40, or £3.20 per user per month.


Bitrix24
Bitrix24 is a great free alternative to Google Workspace as it comes with unlimited users, which is ideal for businesses that collaborate with multiple individuals or need to share their workspace with clients on a temporary basis. Additionally, the plan provides a website builder tool, enabling you to create a professional-looking website for your company without any cost.
It offers cloud-based implementation options, but it also boasts features that are not found in Workspace, such as project management and customer relationship management tools. This makes it an ideal choice for organisations that require all the functionality of Workspace, as well as additional features to enhance their operations.
Price: If the free plan doesn't suit your needs, Bitrix24's Basic plan is £36 per month for 5 users, its Standard plan is £74 a month for 50 users, and its Professional plan is £149 a month for 100 users.


Slack
Slack offers real-time messaging, video and voice calls, and channels for organising conversations and files by topic or project. It also provides robust search functionality and customizable notifications, making it easier to keep track of important information. Its range is smaller than Google Workspace as it has no equivalent to Google's Docs or Slides apps. However, Slack's app directory enables you to connect with other tools and services that you may use, streamlining your work processes.
Price: Slack's plans are payable monthly or annually. If the free plan doesn't match your needs, Slack Pro is £7 per user per month or Slack Business+ is £11.70 per user per month. 


Dropbox
While Google Workspace offers a wide range of productivity tools, Dropbox is primarily a cloud-based file hosting service.
Dropbox's simple user interface and robust security features make it an attractive option if you're looking for a dedicated file storage and sharing solution. 
Price: When billed monthly, Dropbox Standard will set your business back £14.50 per user per month, and Dropbox Advanced £21.50 per user per month. Dropbox Enterprise, designed for larger organisations, is priced on request. 


Rackspace
Rackspace is not as comprehensive as Google and other Workspace alternatives as it does not offer a complete app suite. However, Rackspace Webmail more than compensates for it by offering a host of benefits, including spacious 25 GB mailboxes, double the attachment size of Workspace with 50 MB, seamless integration with Microsoft Outlook, and a 100% uptime guarantee. 
Price: Rackspace's hosted email plans range from £2.39 to £5.03 per user per month.


Mailo
Mailo Pro is an email platform to rival Gmail. It also includes shared calendars, cloud storage, and enhanced security controls. 
Price: Pro packs range from £2.65 to £10 per month depending on your preferred storage capacity and user numbers. 


Zimbra
Zimbra is a collaborative software suite for email, calendar, tasks, and contacts. It also hosts a messaging platform, document collaboration, and video conferencing. 
Price: Zimbra's pricing is available on request. 


WikiSuite
WikiSuite combines various apps, including file sharing, email, and messaging, into one software package. WikiSuite is easy to customise and adapt based on your business needs. However, its complexity, maintenance requirements, and limited support may be challenging for some organisations.
Price: WikiSuite is entirely free.


Local web hosting providers
A local web hosting provider, such as Hostinger or Hyve, is a cheap and simple way to get a custom email domain. 
Price: Some local web hosting providers have various custom email domain plans starting from £1 a month. 


The bottom line
If you're looking for an alternative to Google Workspace, there are lots of viable options to choose from each with unique strengths and a range of price points. 
There's no one-size-fits-all choice. So, take your time and pick the solution that's right for your business. 
Get rewarded for boosting your business' productivity! The Capital on Tap Business Credit Card earns you 1% cashback on spending. Maximise efficiency without breaking the bank!