Published: 23 Mar 2023
Last updated: 23 May 2023
No, you cannot get a business credit card without being a registered business in the UK. This applies to all limited companies, partnerships, self-employed, sole traders, freelancers, and consultants. 
Business credit cards are not available for individual use or personal expenses. They are designed to centralise your business transactions, improve your business credit, and provide capital to your business to aid growth, marketing, and other business ventures. 
So, whether you carry out work on a formal or freelance basis, a business credit card can help you manage your expenses, even out your cash flow, and earn rewards on all business expenses.


What qualifies as a business when it comes to credit cards?
If you own a registered business, you can qualify for a business credit card using that information. Some credit card companies will also allow you to apply for a credit card as a sole trader, freelancer, or if you're self-employed.
Your business must also qualify as an 'acceptable' type of business; many credit card providers will not provide credit to 'high-risk' business types such as arms manufacturers, gambling merchants, or online pharmacies.
To qualify for some business credit cards, such as the Capital on Tap Business Credit Card, you may also need to provide a personal guarantee. This means that you, as the director, will be financially responsible for any unpaid bills or abandoned balances on the business credit account.


How can I qualify for a business credit card?
To qualify for most business credit cards, your business must be an active, pre-existing entity that is classified as an LLC, INC, sole proprietorship, or other type of taxed entity. 
You may qualify for a Capital on Tap Business Credit Card if:
Your business is active on Companies House 
You are an active director of the company or a majority shareholder of 25%+ ownership
Your business has a minimum monthly turnover of £2,000
There are no unsatisfied CCJs against you or your business in the last 12 months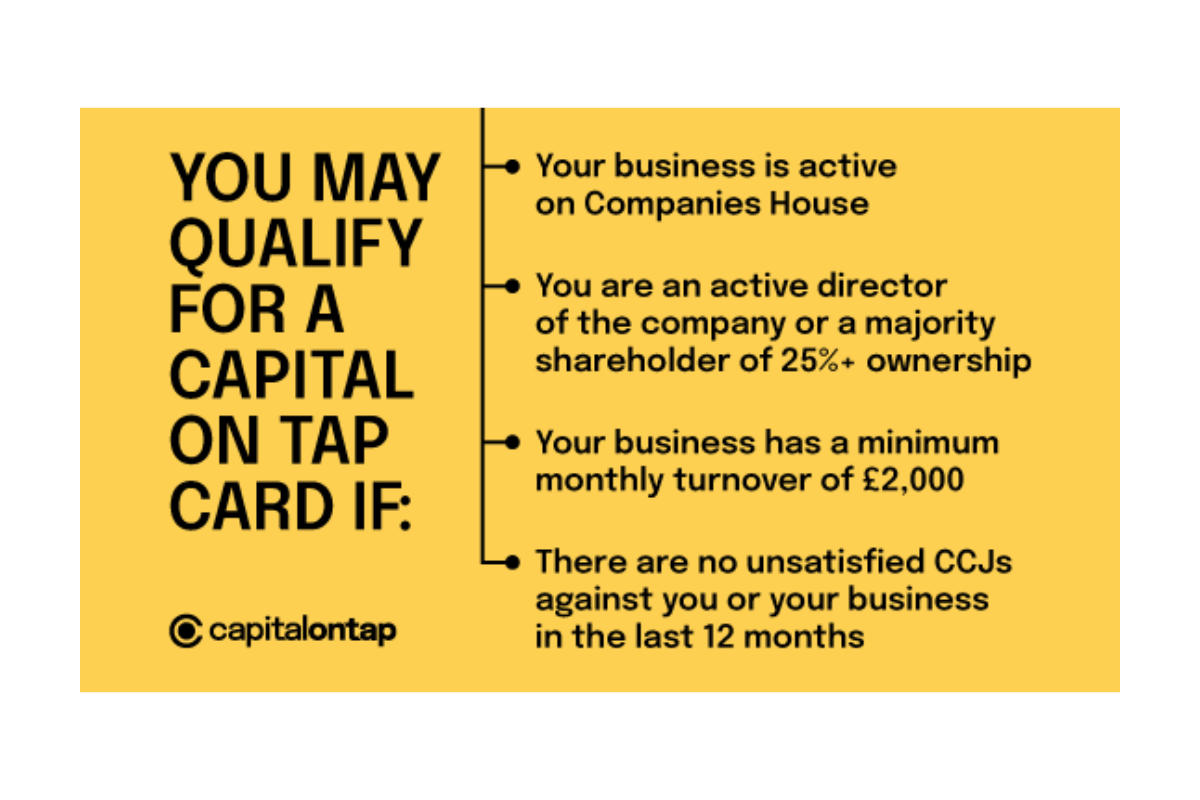 Still unsure whether your business will qualify? We only conduct a soft check, meaning when you can apply today without affecting your credit score.


Why get a business credit card instead of a business credit card?
As a small business owner, you know the importance of managing your finances effectively. While personal and business credit cards both offer an easy way to access funds when you need them, there are several advantages to using a business credit card instead:


Higher credit limits 
A business credit card allows you to unlock greater financial freedom for your business. With higher credit limits, you have the power to make larger purchases and investments, giving you the edge you need to take your business to the next level.


Exclusive perks and rewards
Make spending rewarding. Enjoy a wide range of exclusive perks, from cashback rewards and travel benefits, to expense management tools and fraud protection. No more accounting headaches.


Clearer accounting 
Separating your personal and business expenses will help you stay organised and stress-free when it's time to tackle bookkeeping and taxes. Business credit card accounts often include accounting integrations, allowing you to auto-sync transactions to accounting software, saving you time and reducing stress come tax season.


Company cards
A business credit card allows you to issue employee credit cards. These cards can be set with individual spending limits and used for company expenses such as travel, office supplies, or client gifts.
This not only reduces your time spent dealing with expenses, but it also helps with budgeting and accounting. Instead of juggling personal expenses and company expenses on one statement, employee cards allow for clear categorisation.
If you're approved for the Capital on Tap Business Credit Card, you can create an unlimited amount of cards for your employees, with easy management from your app or account.


Frequently asked questions
Can I apply for a business credit card if I don't own the business? 
Generally speaking, you cannot apply for a business credit card if you do not own the business or are a majority shareholder in the business. 
As such, if you do not have ownership you may not qualify for a business credit card. However, if you are an employee who has been authorised by the business to use a company credit card, you may be able to use the card or a supplementary card for business expenses.


Can I get a business credit card with no business income?
It may be difficult to get a business credit card with no business income. Most credit card issuers require businesses to have a certain level of income or revenue to qualify for a business credit card. This is because the creditworthiness of a business is typically assessed based on its income and financial stability. At Capital on Tap, we require your business to have a turnover of at least £24,000 per annum. 
However, some issuers may offer secured business credit cards, which require a cash deposit as collateral. In this case, the credit limit of the card is typically equal to the deposit amount, and the issuer may not require proof of income. 
Some issuers may also allow sole traders to use their personal income to qualify for a business credit card.