Black Friday and Cyber Monday are the biggest shopping days of the year, but they can also be overwhelming for businesses. By taking the time to prepare, you'll set yourself up for success - and make the most out of the shopping frenzy.
Here are some helpful tips for setting your business apart from the rest, attracting new customers, and moving products on these major shopping days.


Key insights from Black Friday and Cyber Monday 2022 
Black Friday and Cyber Monday 2022 broke all the records for retailers in the UK! These shopping extravaganzas were bigger, better and more profitable than ever before. Before we dive into our tips, it's useful to take a look at what worked for businesses last year.
Online sales hit £10.4 billion over Black Friday weekend in the UK, up +2.9% year-over-year. Cyber Monday also broke records at £3.1 billion in online sales. (Centre for Retail Research)
Top UK selling products included air fryers, Nintendo Switch consoles, Samsung TVs, Shark vacuum cleaners, and gifts like LOL Surprise toys. (Barclaycard)
Black Friday footfall in UK high streets increased by 223% compared to 2021. Small retailers with a physical location saw more in-store shoppers. (Springboard)
The average Black Friday discount rate in the UK was 60% for home appliances, 50% for TVs, 45% for beauty items, and roughly 25-30% for other categories. (PwC)
Cyber Monday was the biggest day ever for UK retailers on eBay, with 2 items sold per second. Small businesses can leverage large marketplaces. (eBay)
Sustainability and energy efficiency were important factors for UK shoppers this year. Promote eco-friendly and energy-saving products.
Analysing the sales stats and trends from 2022 gives you invaluable intel to help boost your performance this holiday season. When you understand what shoppers were excited about buying, how they preferred to shop, key discount rates and more, you can make smart strategic decisions for your marketing and promotions.


Top Black Friday sale ideas for small businesses
Looking for ways to make an impact on Black Friday without breaking the bank? Use these creative suggestions to maximise your results.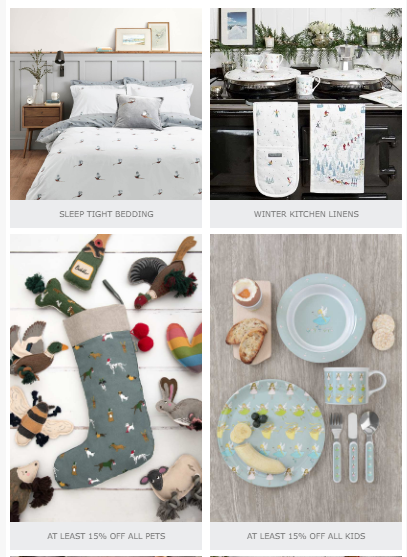 Create gift guides
Put together a handy guide showcasing some of your top picks. This not only helps customers narrow down their options, but it's also a great way to highlight specific products or deals. 
You can also curate these to show gifts perfect for a specific demographic, e.g. Christmas presents for grandparents. Check out the example above which shows a selection of sale items for people who love to travel.  


Promote hourly deals
What's the first thing that comes to mind when you think of Black Friday? Probably long queues out the door of shops. And for good reason - the best Black Friday deals go fast! But while deals are plentiful, they can also be overwhelming and frustrating as shoppers scramble to snag them before they sell out. 
That's why promoting hourly deals on Black Friday is a savvy strategy. It keeps things fresh by offering new, limited-time deals every hour and adds an element of urgency that keeps customers engaged and coming back for more. Plus, it encourages impulse buys as people don't want to miss out on a great deal.
Keep your customers engaged and help manage your stock with hourly deals, and make each deal known through announcements, app alerts, and prominent advertising.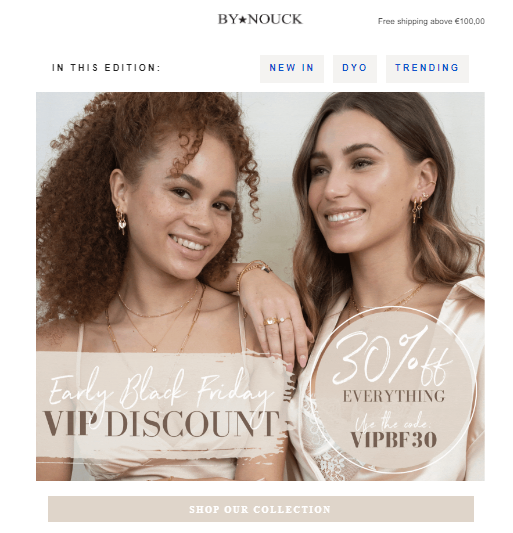 Create an early-bird Black Friday sale
As a small business, it can be difficult to compete with bigger shops. One way to stand out is by offering an early bird Black Friday sale. This not only attracts customers who are looking for deals and are willing to wake up early, but it also allows your store to beat the competition and get a head start on sales. 
In addition, an early bird sale can help mitigate any potential overcrowding or chaos during traditional Black Friday hours, creating a smoother and more enjoyable experience for both customers and employees.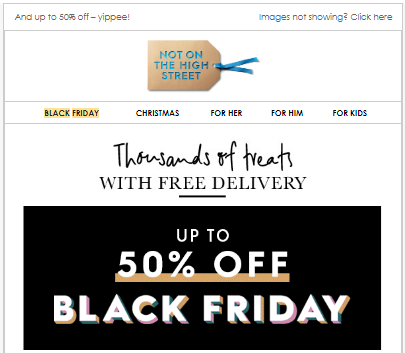 Offer free shipping
Another way to compete in the crowded online marketplace is to offer free shipping on all orders. It's a simple perk that can make all the difference for customers looking for deals. Plus, by freeing customers from the burden of minimum spends or high shipping costs, you're likely to see an increase in both sales and customer satisfaction. 


Extend your sale from Black Friday to Cyber Monday
While Black Friday may be the biggest shopping day of the year, it's not the only one worth considering. Extending your sale to Cyber Monday allows you to reach a whole new audience - those who want to shop from the comfort of their own homes, or who prefer to avoid crowds and long lines.
And let's not forget about those bargain hunters who are always on the lookout for deals, and are willing to wait until Monday to get them. By offering discounts both in-store and online during this period, you're giving customers even more options and increasing your chances of boosting sales.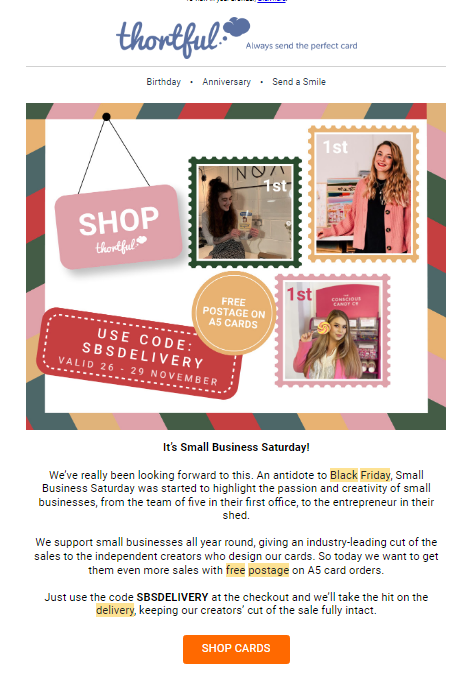 Don't forget Small Business Saturday
Held on the first Saturday in December, this shopping holiday encourages consumers to shop at small, independently owned stores. So include this day in your Black Friday prep too as you can expect an influx of customers! Read our blog to learn our to tips on how to make the most of this day.


Deliver a special in-store experience
One way to stand out from the competition is by delivering a unique and special in-store experience on Black Friday. This can include offering complimentary refreshments or snacks, hosting fun events or raffles, providing personalised customer service, and creating festive decorations to make customers feel welcome and excited. 
By creating a memorable experience rather than simply offering discounts, you not only attract customers but also encourage them to return even after the craziness of Black Friday has passed. 


Step up your customer service
While having great deals and promotions is important, don't forget about the value of excellent customer service. Happy customers are much more likely to return to your store or recommend it to their friends and family, making them valuable long-term assets. So why not use the busy shopping day as a chance to really wow your customers? 
Focus on providing quick assistance, knowledgeable staff, and a cheerful atmosphere for an experience that shoppers won't forget - and will want to repeat. In this increasingly competitive market, stellar customer service can be the differentiating factor for your small business on Black Friday and beyond.


How to promote your Black Friday deals
Once you've decided on the discounts you'll offer, you need to get the word out! Although it can feel impossible to compete at times, with some creative thinking, you can make sure your deals get noticed! Follow these 4 tips to spread the word. 
Promote your referral programme
One of the best strategies for maximising profits on this busy shopping day is by promoting your referral program. By offering incentives for current customers to refer friends or family members, you can not only attract new customers, but also improve brand loyalty among your existing customer base. 


Send sneak peeks
Sending sneak peeks of Black Friday deals is a great way to drum up excitement and drive customer anticipation. It can also give loyal customers a chance to plan ahead and budget for their desired purchases. Plus, teasing out deals in advance gives potential customers time to make sure they're following your brand on social media or signed up for your email newsletter, ensuring they don't miss out on the best deals when it's time to shop.


Take advantage of social media and don't forget your hashtags
It's important to make the most of every opportunity to reach potential customers. Using hashtags on platforms like Twitter and Instagram can help spread the word about your promotions and drive traffic to your website or brick and mortar store. And don't forget about facebook ads - targeting a specific audience with a Black Friday deal can greatly increase your sales and exposure. 
Here's an example from Dell - they use persuasive language to build anticipation for the customer and clearly display some of the products on offer.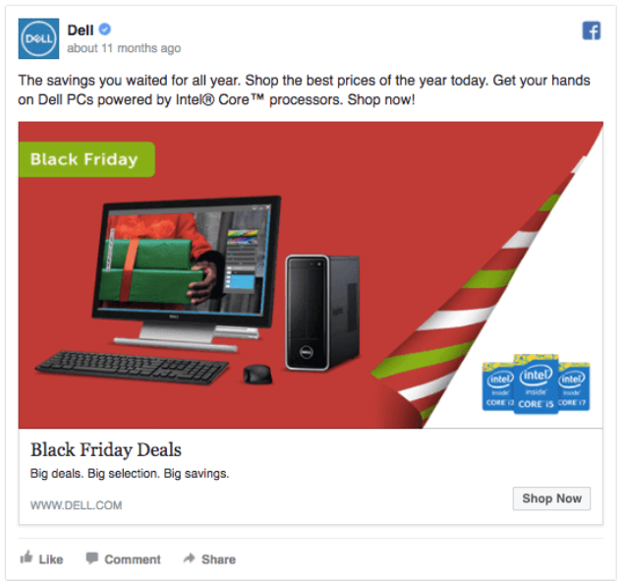 Start by creating a specific hashtag for your sale - this not only allows customers to easily search for your event, but it also helps with brand visibility and builds a sense of community among those who participate in the sale. On platforms like Twitter and Instagram, try tagging other accounts that may be interested in promoting your sale as well.
And don't forget about Facebook - create an event page and invite current followers, as well as reaching out to local community pages or groups to spread the word.


Make use of your email distribution list
Use your email distribution list to promote your deals and specials! Share sneak peeks of what's to come, offer exclusive discounts for newsletter subscribers, or send out a special Black Friday newsletter. And don't forget to include eye-catching visuals and clear call-to-actions to really catch your customers' attention. Plus, it's an easy and cost-effective way to boost sales this holiday season.


Frequently asked questions
What is Black Friday?
Black Friday is the last Friday in November, and unofficially kicks off the Christmas shopping season! Many stores have "door busting" deals, leading many customers to camp out in front of the store the night before Black Friday to ensure their place at the front of the line for select discounts and deals.


What is Cyber Monday?
Cyber Monday is the internet's version of Black Friday. Cyber Monday falls on the Monday after Black Friday and encourages online shopping and promotes exclusive discounts that only apply that day.
Any discounts listed in this blog are not the responsibility of Capital on Tap and are examples from the previous Black Friday season.