Published: 11 Jul 2023
Last updated: 12 Jul 2023
Read time: minutes
We've heard you, small business owners, loud and clear. Managing finances can be a daunting task that steals precious time and energy away from growing your business. But worry no more, because we've been working on a solution, specifically designed for you.
We're thrilled to unveil our latest innovation, people management! A powerful tool designed to streamline your financial operations and empower you to reach new heights of success. Say goodbye to the days of endless spreadsheets, confusing calculations, and sleepless nights spent balancing the books.
With our new 'People' section in your account, the power is in your hands. You can easily view a list of individuals, their roles, and card details. Invite team members via email, assign specific roles and access levels, and decide whether they should have a virtual or physical card. You can even set spend controls like ATM blocks and monthly spend caps!


Listening to our customers 
At Capital on Tap, we pride ourselves on actively listening to our customers. The inspiration for the people management feature stems directly from the invaluable feedback and suggestions we received from small business owners like you. 
Recognising the time constraints faced by business owners and their reliance on bookkeepers or accountants to access financial information, we sought to create a solution that would simplify financial management while providing robust control and flexibility.


Streamlining access and roles 
At the heart of people management lies the new 'People' page in your portal and app. This section provides the main account holder with an intuitive interface to view and manage individuals associated with their business. 
By having the option to add people as well as cards, business owners gain enhanced flexibility in defining roles and access levels within their accounts. Whether you need to grant view-only access to a bookkeeper or accountant, or assign broader permissions to trusted team members, people management allows you to tailor access to suit your specific business requirements.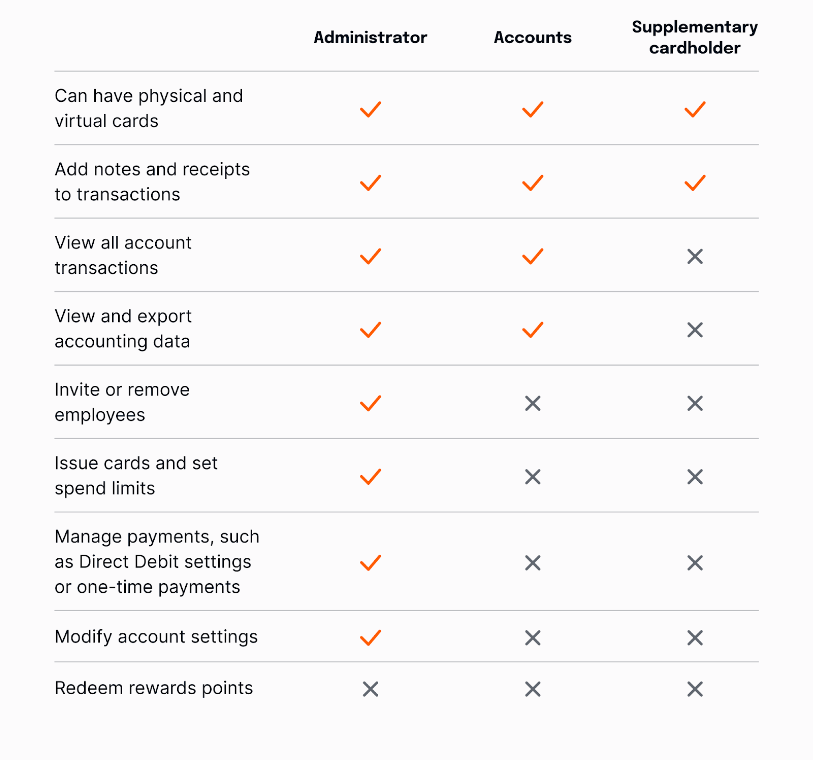 Flexible card control 
In addition to managing access and roles, the people management feature offers seamless card control. Business owners can now assign virtual or physical cards to individuals within their organisation, enabling convenient spending while maintaining control over expenditures. 
Plus, spending controls such as ATM blocks or monthly spend caps can be implemented to ensure responsible financial management within your business.


User-friendly onboarding process 
We understand the importance of a smooth onboarding process for team members, so we've made adding individuals a breeze. 
Once a person is added in the 'People' section, an email invitation is automatically sent to them, providing clear instructions to sign up and create their login details. 


Benefits for small business owners
The introduction of people management brings a wide range of benefits to small business owners:
Delegation and efficiency: By granting controlled access to trusted individuals, business owners can delegate financial tasks, reducing their own workload and enabling them to focus on strategic growth initiatives.
Enhanced security: People management allows business owners to maintain tight control over sensitive financial information by defining roles and access levels, ensuring data confidentiality and protection.
Improved collaboration: Granting designated team members access to specific tools and resources fosters collaboration and enables them to contribute effectively to financial operations, without compromising security.
Tailored spending controls: By assigning cards with customisable spending controls, business owners can effectively manage expenses and prevent unauthorised or excessive spending.
Our new people management feature underscores our commitment to empowering small business owners with innovative financial solutions. By simplifying financial management, delegating tasks, and ensuring security, we aim to equip business owners with the tools they need to thrive in a competitive business landscape. 
With people management, we're revolutionising the way small businesses handle access and roles, enabling entrepreneurs to focus on what truly matters—the success of their ventures.